If you want a quick and easy creamy dessert that is also suitable for kids, make a Sweet Potato Mousse! This recipe is very delicious and healthy and you can make it in minutes.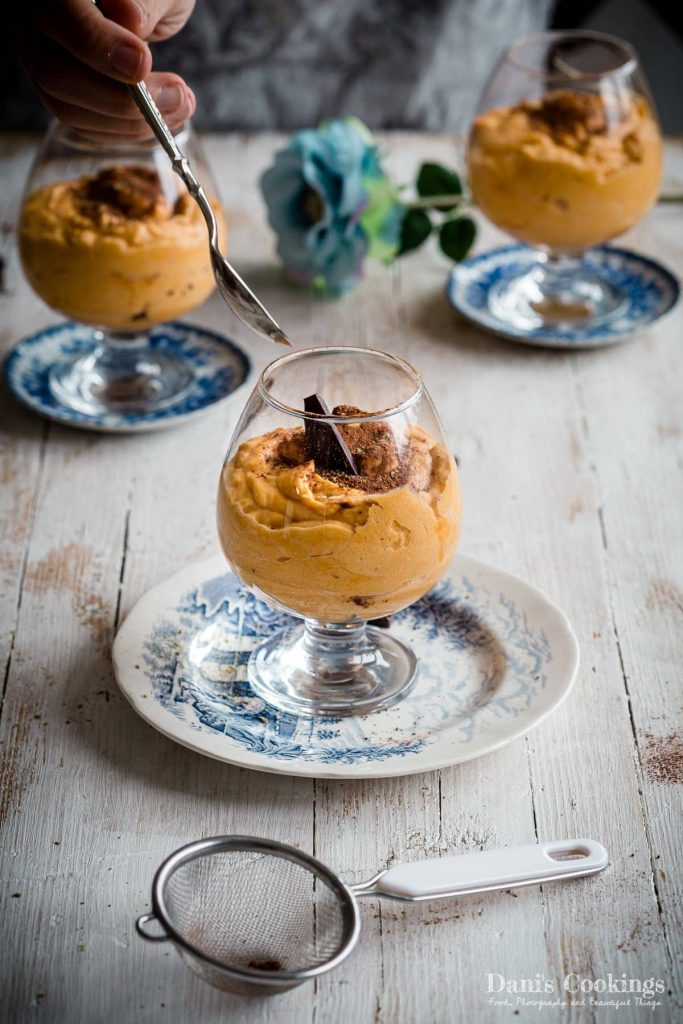 What ingredients do you need for the Sweet Potato Mousse
To make a basic sweet potato mousse you would need only 3 ingredients: baked sweet potatoes, heavy whipping cream and maple syrup or other healthy sweetener. Alternatively you can add cocoa powder and make a Chocolate Sweet Potato Mousse. I sprinkled it with cocoa powder when serving it in glasses so it had a mild cocoa taste which was not overpowering the nice flavour of the sweet potatoes.
The best thing about this dessert is that being healthy it is a great way to serve sweet potatoes to kids who normally don't like them. Sweet potatoes are full of nutrients so they are perfect to feed your kids with.
How to make a Sweet Potato Mousse
You need to use baked and then refrigerated sweet potatoes. Ideally you can bake them on the previous evening, refrigerate for the whole night and then make the mousse on the next day.
To bake the sweet potatoes, first wash them then pinch them all around with a fork and wrap them in aluminium foil. Place the sweet potatoes on a baking sheet. It would take about 1 hour at 450 degrees F/ 220 degrees C to bake. Let them cool completely before placing them in the fridge.
On the next day peel the sweet potatoes, chop them and place them in a food processor. Add maple syrup and optionally some cocoa powder and puree until smooth.
Using a rubber spatula combine the sweet potato puree with freshly whipped cream.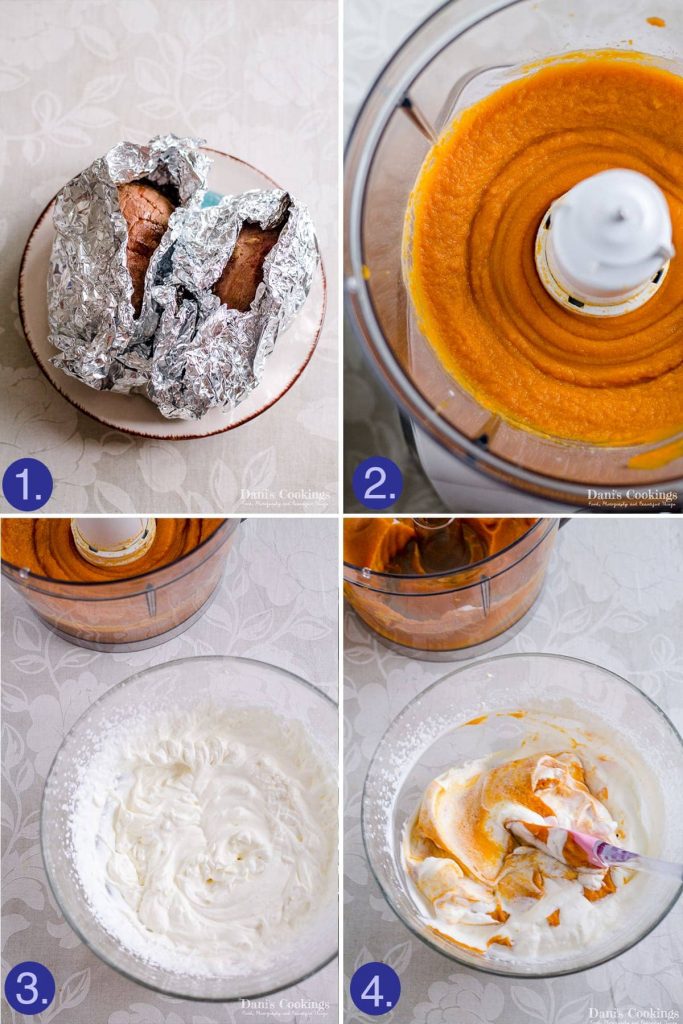 How do you serve this mousse
This mousse is just perfect to eat plain. I made it without cocoa powder in the puree but sprinkled some between the layers in the glasses. You can also add ground nuts, sugar free cookies or chocolate shaves. I think almost anything you like would go well with this sweet potato mousse.
This dessert can be used also as a frosting between the layers of healthy cakes. It has a very mild, sweet taste and would go well with so many things!
Looking for more quick and tasty dessert recipes? Check out the ones below:
Peanut Butter Yogurt Parfait with Mini Pretzels
Easy Honey Apple Yogurt Dessert in a Glass
Easy dessert with Peaches, Cream and Mascarpone
I would be very happy to receive your feedback about this recipe! Feel free to leave your comments or questions below the post, if you have any!
Sweet Potato Mousse
Equipment
Food Processor

Electric mixer
Ingredients
2

medium sweet potatoes

,

baked and refrigerated*

⅞ cup / 200 ml

heavy cream,

cold

2

tbs

maple syrup

cocoa powder: optional

ground nuts: optional

cookies or crackers: optional
Instructions
Peel and chop the sweet potatoes. Place them in a food processor together with the maple syrup. Puree until smooth.

In a large bowl with an electric mixer whip the cream until thick.

Using a rubber spatula, carefully combine the cream and the sweet potato puree until the mixture becomes uniform.

Serve in glasses, optionally garnished/ layered with cocoa powder, nuts or cookies.

You can eat the mousse right away or refrigerated.
Notes
Bake the sweet potatoes one day before you plan to make the mousse. How to bake them: pinch them all around with a fork and wrap them in aluminium foil, without peeling them. Bake on a baking tin at 450 degrees F/ 220 degrees C for about an hour or until soft when pinched with a fork. Let cool until room temperature and then refrigerate as they are still wrapped in the foil.
For a sweet potato chocolate mousse add 2-3 tbs cocoa powder in the food processor together with the sweet potatoes. Increase the quantity of maple syrup with 1-2 tbs.
You can use this sweet potato mousse as a cake frosting as well.