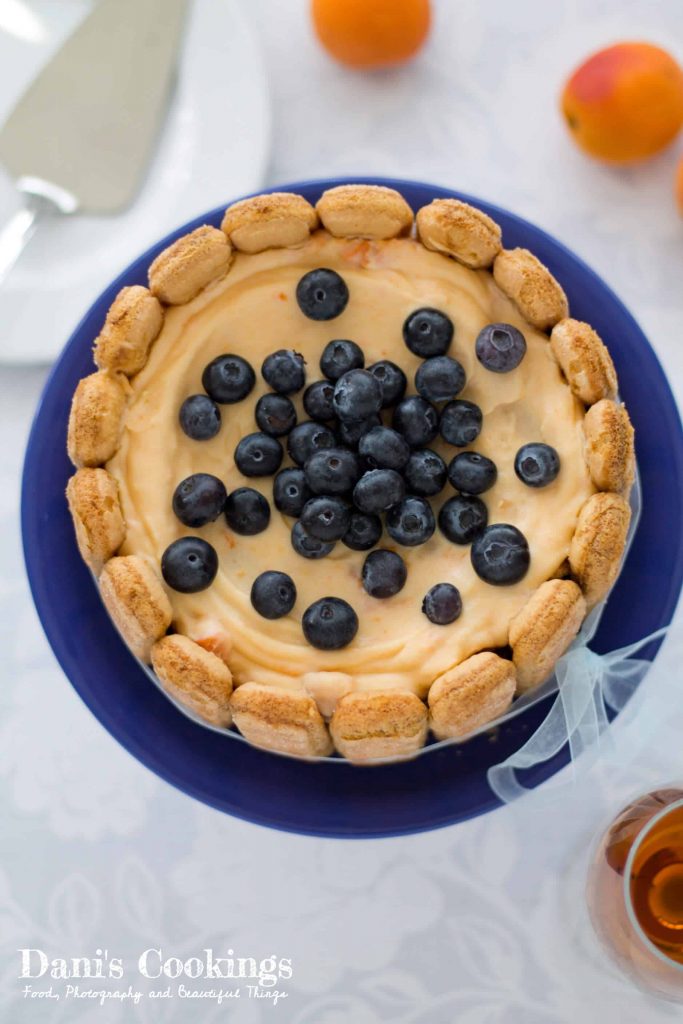 A super delicious and easy to make variation of the famous Italian dessert, this Apricot Tiramisu with Blueberries will become your new favourite summer sweet treat!

It is already July which means that daniscookings.com is one year old now! I am so happy about that and I am very glad that during that time I managed to be consistent in my efforts to make the blog better 🙂 As I have mentioned already, Dani's Cookings (which in fact is much older than 1 year) has not one but two birthdays. That's wonderful because who doesn't want more reasons to celebrate!

And as it is already an year since Dani's Cooking has its own domain and a regular weekly posting schedule, I decided to launch my first blog Survey. If you haven't done it yet, I would like to ask you to spend literally less than 5 minutes of your time and answer the questions from the survey. That way you will let me know what exactly you like in the blog and what I could potentially improve in the future.

And of course, every birthday needs a cake and as it is summer, I made a more refreshing dessert than the regular birthday cake: a no bake Apricot Tiramisu with fresh Blueberries. In fact the first official post in that blog was featuring another no bake dessert, so definitely looks like I've already started a tradition.

It is not a secret that Tiramisu is one of my most favourite desserts ever! I love the original version made with raw eggs but I never dared to prepare it due to my paranoia (I never use raw eggs in my recipes!). But I am a big fan of the Tiramisu variations, when done well, of course. Pumpkin Tiramisu was my first and very successful experiment, followed by the super scrumptious Tiramisu Macarons with Marsala wine. So my third invention of this kind ended up incredibly tasty too and I think I am not going to stop here.

This Apricot Tiramisu with Blueberries is quick and easy and actually you don't even need to prepare it too much in advance before serving. And it is also heavenly delicious: the taste and the sweetness of the apricots combined with the mascarpone go perfectly well together with the coffee flavour and with the sweet and sour blueberries. Every bite of this cake is like a piece of heaven!
Apricot Tiramisu with Blueberries
Ingredients
6-7

apricots

,

finely chopped

2

tbs

sugar + 2 teaspoons

500

g

mascarpone

100

g

powdered sugar

200

ml

strong coffee

50

ml

marsala wine + 1 tbs

200

g

fresh blueberries

400

g

ladyfingers

,

savoiardi biscuits
Instructions
In a small saucepan over medium heat combine apricots and 2 tbs sugar. Stir continuously until the mixture starts bubbling. Continue stirring. When the mixture thickens, remove the pan from the heat and set aside to cool until room temperature.

Combine hot coffee and sugar and stir until the sugar is completely dissolved. Add 50 ml marsala wine and stir. Set aside to cool.

In a large bowl combine powdered sugar and mascarpone cheese. Mix until homogeneous. When the apricot mixture is completely cool, gradually add it to the mascarpone. Add also 1 tbs marsala wine. Whisk until all ingredients are well combined.

When the coffee reaches room temperature, start dipping the savoiardi biscuits in it. Dip each biscuit horizontally for about a second, so that just the half is soaked with coffee.

Arrange the savoiardi in a circle around the insides of a 20-22 cm spring form pan or a cake ring placed on top of a serving plate. The soaked side of the biscuits should face the pan. Arrange more ladyfingers on the bottom of the pan. Cut some of the biscuits with a sharp knife in order to fit all the small gaps in between.

Spread ⅓ of the apricot mascarpone on top of the ladyfingers layer. Arrange one more layer of biscuits on top of the mascarpone, again filling the gaps with small pieces. Spoon on top another ⅓ of the apricot mascarpone. Spread half of the fresh blueberries over the filling. Follow with one more layer of ladyfingers and cover with the remaining mascarpone. Spread the rest of the blueberries on top.

Let the tiramisu sit in the fridge for 2-3 hours before serving.
Notes
Can't find fresh apricots? No problem! You can make this tiramisu with peaches or nectarines. You would need 3 to 5, depending on their size.