Can you make a Tiramisu without eggs and alcohol? Absolutely! You can even make a Tiramisu without coffee and it can still taste great! The current recipe is suitable also for kids so your whole family can enjoy it!
Why you may not want to make the original recipe
I am a big fan of Tiramisu and I can't stop making experiments with its recipe. I have made several different versions of the famous Italian dessert like the Easy Pumpkin Tiramisu Recipe, Kids Friendly Apple Tiramisu and even Tiramisu Macarons. All of them don't contain raw eggs. I admit I never use uncooked eggs in my recipes due to a big fear of salmonella.
On the other hand when I make a dessert at home, my child always wants to try it too. So I rarely prepare desserts with coffee and alcohol any more… But aren't these two ingredients crucial for Tiramisu?
Well, yes and no. Coffee, unlike alcohol, is one of the original ingredients of this dessert. But you can make a coffee free Tiramisu you don't like the drink or you have young kids.
History of the dessert
It is a dessert, typically prepared with ladyfingers (or savoiardi cookies) soaked in coffee and covered by filling made of mascarpone, sugar and eggs. You might think it has an old tradition but in fact it was invented in the 20th century in Northern Italy. It is not clear which region exactly it comes from as there are several versions about its invention. The name "Tiramisu" was mentioned officially in an Italian dictionary only in 1980.
The origin of Tiramisu is being disputed between the regions of Veneto and Friuli Venezia Giulia. The only clear fact is that it has been invented in the northern part of the country. It is quite similar to other famous desserts: charlotte, zuppa inglese, Dolce Torino and others which consist of soaked ladyfingers layered with a filling.
What does Tiramisu mean
The literal translation of the word "tiramisù" is "lift me up" or "pull me up". The name is due to the supposed aphrodisiac qualities of the dessert.
Skipping the alcohol
The combined flavour of coffee and marsala is really great, however the original Tiramisu recipe does not contain alcohol. Marsala wine has been introduced at a later stage.
As I might have mentioned before, my better half is from Veneto region. Years ago I was lucky to have the opportunity to taste the original tiramisu recipe prepared personally by his grandma, who sadly is not between us anymore. Hers was really the best ever tiramisu I have tried. Unfortunately having my raw egg paranoia, most probably I will never try to remake it.
Summary of preparation
It is really easy to make a traditional tiramisu!
First you need to prepare the coffee: preferably from a moka pot. Then you have to beat the yolks together with the sugar. Little by little add the mascarpone and beat until smooth. At the end whip the egg whites and fold them gently into the mascarpone mixture.
Soaking the ladyfingers is an art by itself. Many people say that the cookies should be soaked only on one side. In my view it is better to have them soaked from both sides, just for a second: this would make the dessert very moist and tasty. The downside of this method is that you won't be able to cut pieces from the cake, you will need to spoon it. That extreme moisture is actually the best about Tiramisu but it's not very presentable if you want to serve it nicely or make photos of it. So my advice is: if you make the tiramisu in individual cups or you don't care about its presentation when served, soak the ladyfingers on both sides. The feeling in your mouth will be definitely worth it. If you want to serve the Tiramisu in neat pieces or to make photos of the portions, soak the cookies on one side only.
Arrange the cookies in a pan and distribute the filling evenly on top. Usually you will make 2 layers of cookies and two layers of frosting.
Let the tiramisu cool for 8 hours or overnight. Serve after sprinkling it with cocoa powder.
Is this recipe kids friendly
The below recipe is not "original" but it is kid friendly and also very easy. It is made with hot cocoa instead of coffee and with whipped cream instead of raw eggs. To make the Tiramisu even richer you can also add some chocolate shaves or sprinkles between the layers.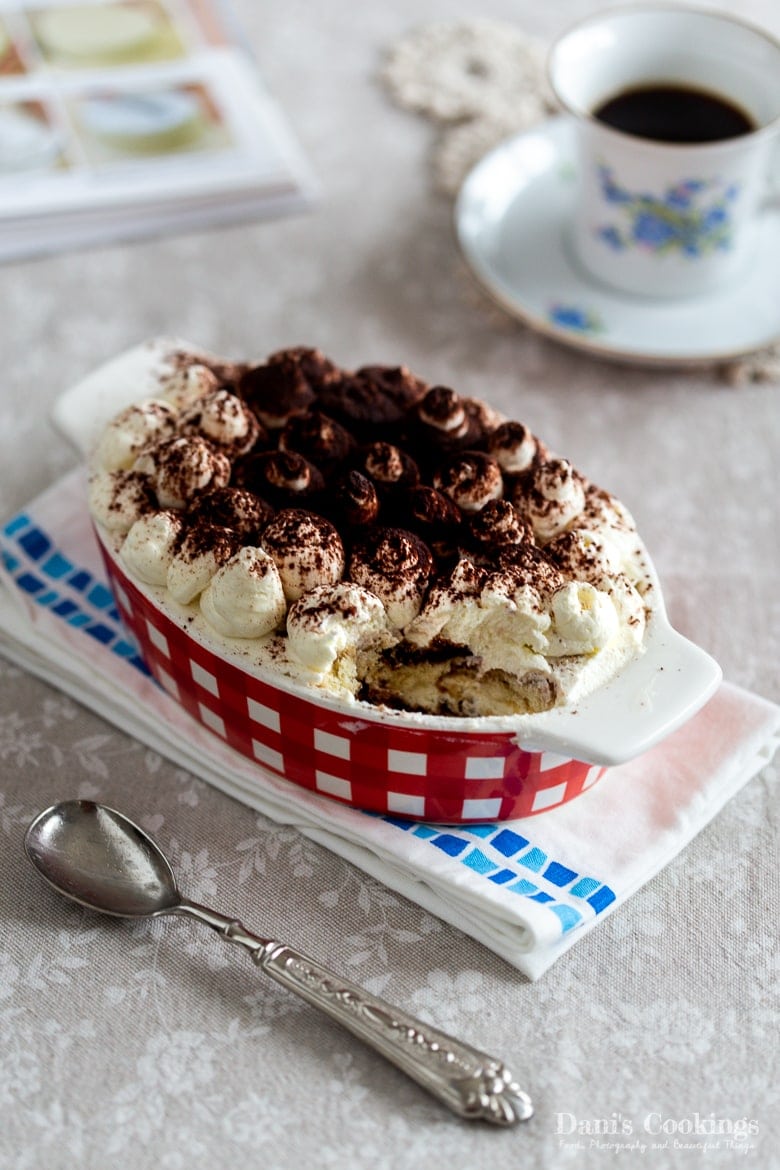 I hope you learned something new from this tiramisu post! Let me know if you have more questions regarding the famous Italian dessert and I will be happy to find the answers for you.
If you made the recipe, I would be glad if you share your experience in the comments below. And if you like it, please share to social media so that more people can benefit from it!
Tiramisu without eggs and alcohol
Ingredients
17 oz/ 500 g

mascarpone cheese

1 ¼ cup/ 300 ml

cup

hot water

1

tbs

cocoa powder + more for sprinkling

2

teaspoons

rum extract

10,5 oz/ 300 g

ladyfingers

,

(savoiardi) or 3 sheets

1 cup/ 125 g

cup

powdered sugar

5 oz/ 150 g

chocolate shaves

,

optional

⅞ cup/ 200 ml

heavy cream,

cold
Instructions
In a bowl mix the hot water and the cocoa powder until the cocoa is fully dissolved. Add the rum extract. Set aside to cool until room temperature.

In a large mixing bowl whip the cream until it thickens.

In another bowl beat together mascarpone cheese and sugar until smooth. Using a rubber spatula combine the two mixtures.

Soak the ladyfingers just for a second in the cooled cocoa liquid. Arrange them on the bottom of a big tin close one to another. Optionally sprinkle some chocolate shaves or sprinkles on top. Cover the layer of ladyfingers with a layer of mascarpone filling. Continue the same process with another layer of ladyfingers, chocolate shaves (optionally) and filling.

Cover the tin with cling film and refrigerate for 8 hours or overnight. Sprinkle cocoa powder on top before serving.
Notes
Powdered sugar can be substituted by xylitol which is beneficial for the teeth and would not change the taste of the dessert.
Soaking: Many people consider that the ladyfingers should be soaked only on one side. Other recipes suggest soaking from both sides, just for a second. Soaking from both sides ensures that the dessert is very moist, which in my opinion is crucial for a great tiramisu. The downside of this method is that when you serve it, you will need to spoon it as it will be hard to make good looking slices. So my advice is: if you prepare the tiramisu in individual cups or you don't care how you will present it when served, soak the ladyfingers on both sides. If you want to serve the Tiramisu in neat pieces, soak the ladyfingers on one side only.
Tin size: The listed quantities of ingredients would fit into tin sizes 8 x 12 inches (20 x 30 cm) or 9 x 12 inches (23 x 30 cm). If you don't have such tins, don't worry: you can make the tiramisu in almost any dish, even in a plate. You just need to arrange neatly the soaked ladyfingers and cover them with the mascarpone filling. Another option would be to make individual portions in glasses. I used a smaller size tin and the rest of the ingredients I layered into a small baking dish.
Original Tiramisu recipe:
If you want to make authentic Tiramisu, use the same quantity of hot strong coffee instead of hot cocoa and substitute the cream with 4 divided eggs. Instead of the rum extract you can add 2-3 tbs marsala wine, but it is not mandatory for an authentic taste.
To make the filling beat the egg yolks with the sugar until creamy. Little by little add the mascarpone and beat until smooth. In a separate bowl beat the egg whites until soft peaks form. Fold the egg whites into the mascarpone mixture.
The process of soaking the ladyfingers into the cooled coffee (with or without marsala) and layering the tiramisu is the same as in the cocoa recipe. For an authentic Tiramisu skip the chocolate between the layers, just sprinkle with cocoa powder on top.