Tasty blue cake with fluffy layers: the ultimate Blue Velvet layer cake recipe will not disappoint you! In the step-by-step recipe you will find out also how to use natural food dyes to make a blue cake.
Jump to:
What is special about this recipe
As a big fan of David Lynch's movie Blue Velvet, I've always dreamed of making a blue layer cake. But I don't like using artificial food dyes. And turns out that a natural blue cake is possible with the right ingredients. In this case I used Butterfly Pea Powder but you will find other options below.
Taste-wise the Blue Velvet cake is similar to the famous Red Velvet. Both contain vanilla and a bit of cocoa and both are covered by scrumptious cream cheese frosting.
How to make a blue cake naturally
There are a number of ways to make a blue food colouring with natural ingredients:
In this recipe I used Butterfly Pea powder. It is made from a plant (blue flower) which grows in South East Asia. It can be used for tea infusions or added to food. Butterfly Pea is Ph sensitive so it turns purple when in contact with acid. To achieve an intensive blue shade in a cake that also contains eggs, you might need one whole tablespoon of the powder or even more.
Blue Spirulina is another possibility. The colour intensity of the spirulina powder is a bit stronger than the Butterfly Pea. Start with 1 teaspoon added to the flour. If the final colour of the batter does not look perfect, you might add also another ½ -1 tsp.
Red cabbage: I have experimented with this method in the past without success so I don't recommend it for cakes. Basically you need to boil ½ to 1 head of cabbage in water for a long time until the resulting liquid becomes thick and dark purple. Adding baking soda makes it blue. The downsides are that making it takes a lot of time, it is liquid and smells like cabbage so not ideal for cake recipes.
Blueberry juice: I never tried it in cakes but in my view it won't be enough to achieve the desired colour intensity in a cake. It might be a good solution for frostings and smoothies.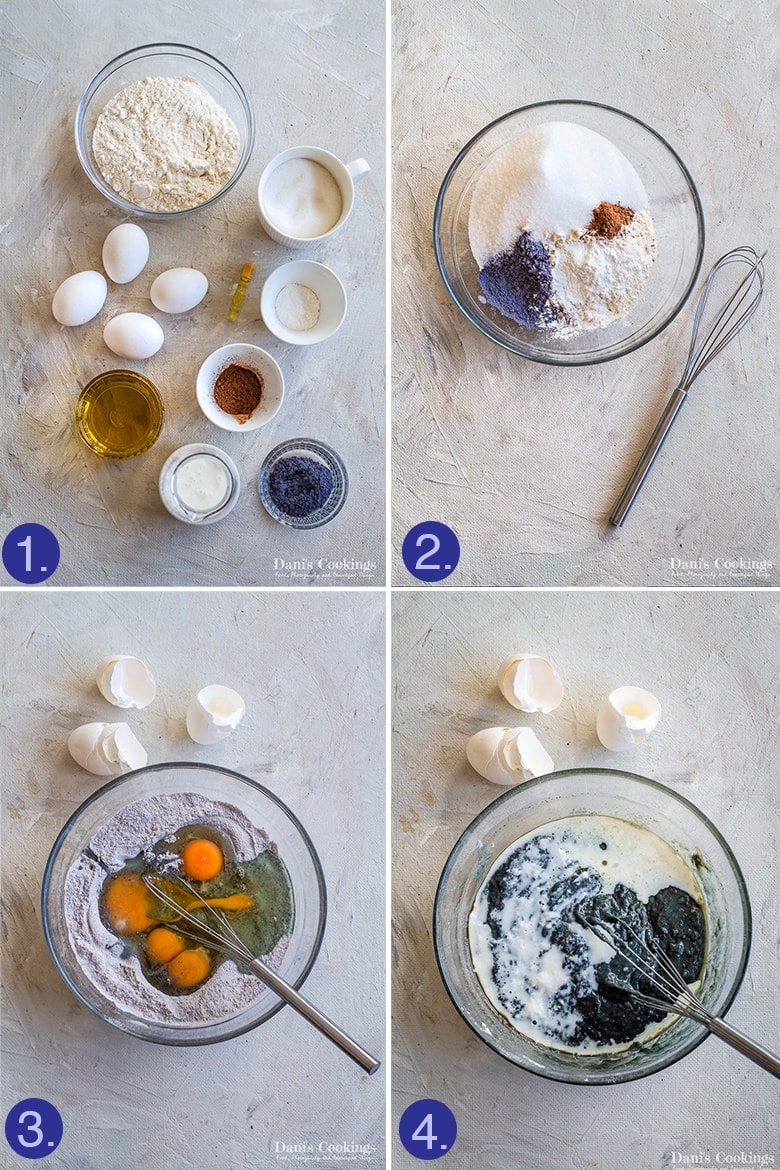 How to make the layers
The cake batter is very easy to prepare: you just have to combine separately the wet and the dry ingredients and whisk them together. Even a newbie won't be challenged.
About the frosting
The fluffy blue layers are perfect covered with velvety cream cheese frosting. And the best frosting is made of cream cheese + a bit of butter for stability and richer taste.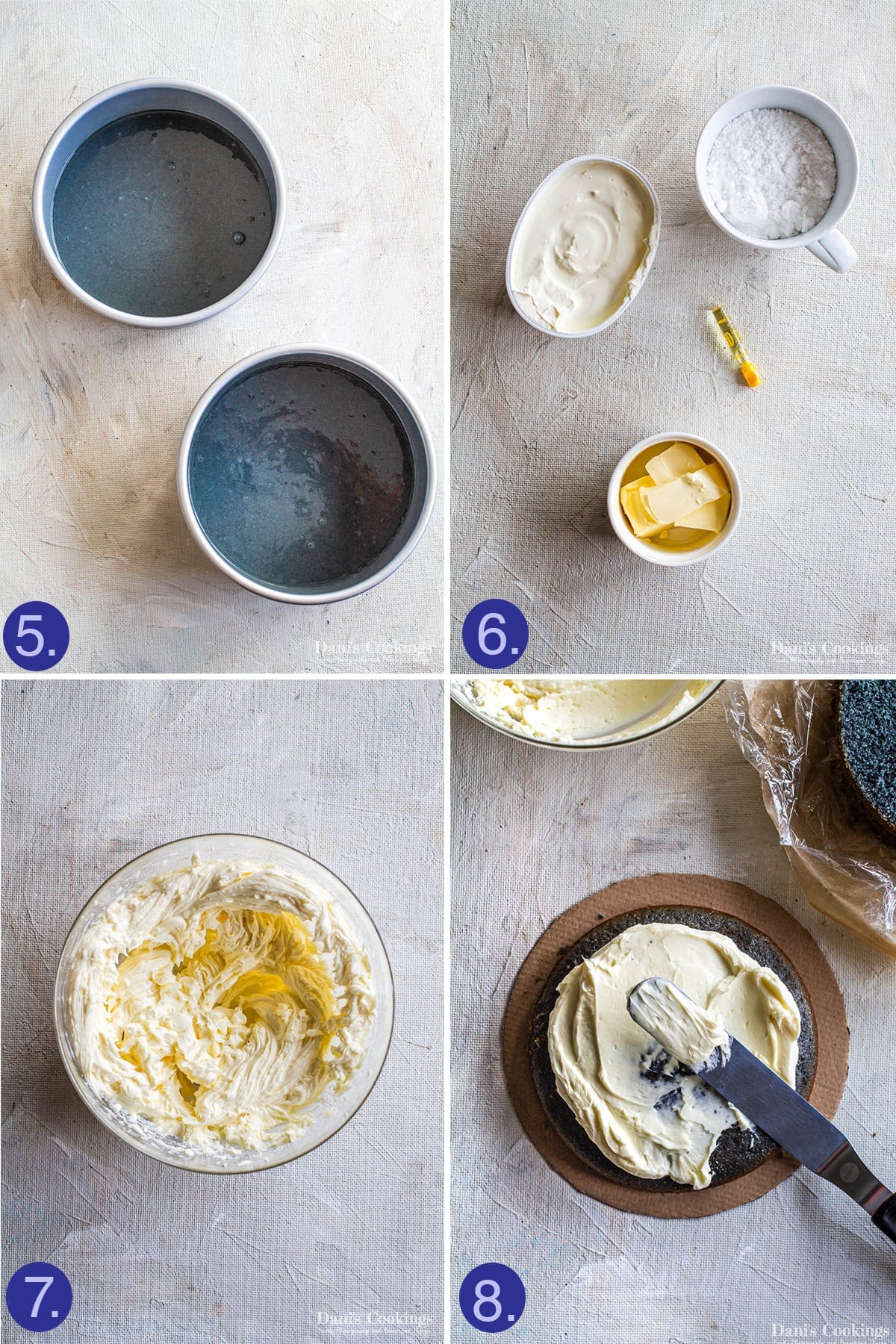 Recipe tips
This cake is quite easy to make but if you are a novice baker, you should consider few important moments:
Preferably sift the flour together with the baking powder.
If you don't have two cake pans, you can bake the batter in one. Consider increasing the baking time with 10-15 minutes in this case.
To cut the layers easier, you may want to refrigerate them for 3-4 hours or overnight. That's why I always prefer to make the layers one day before assembling the cake.
Make sure you reserve a bottom layer (the one that has been at the bottom of the cake pan) for the top of the cake. This will help you make the cake even on top.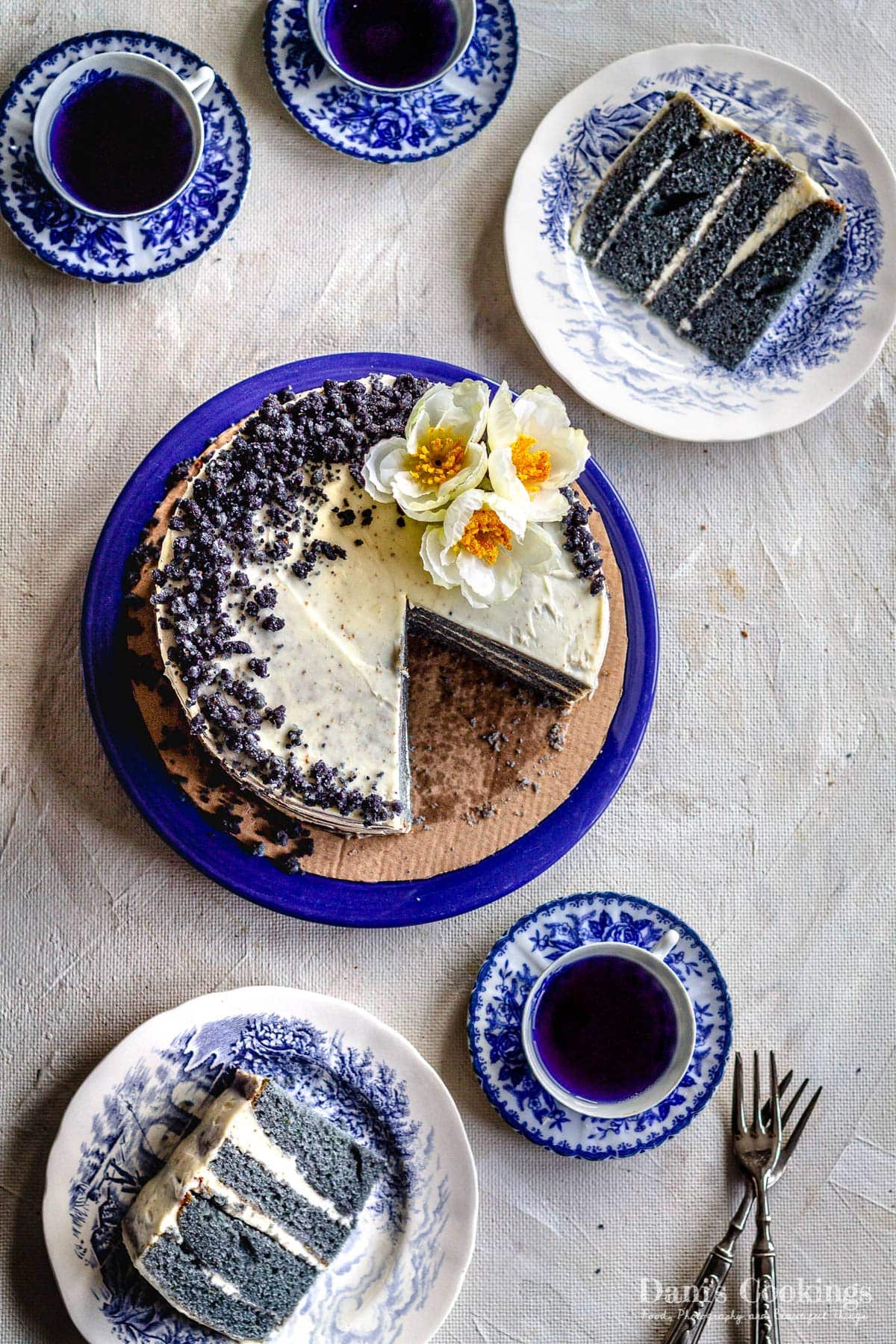 Decoration
The Blue Velvet Cake is seriously tasty and pretty! It doesn't really need too much decoration: it looks beautiful with just the frosting on top.
Similarly to the Red Velvet Cake, you can sprinkle on top crumbs from the trimmed layers. I mixed them with some more butterfly pea powder for additional colour intensity.
This is a wonderful celebration dessert that you can make at home without much challenges. And with natural food dyes such as butterfly pea or spirulina even kids can eat it.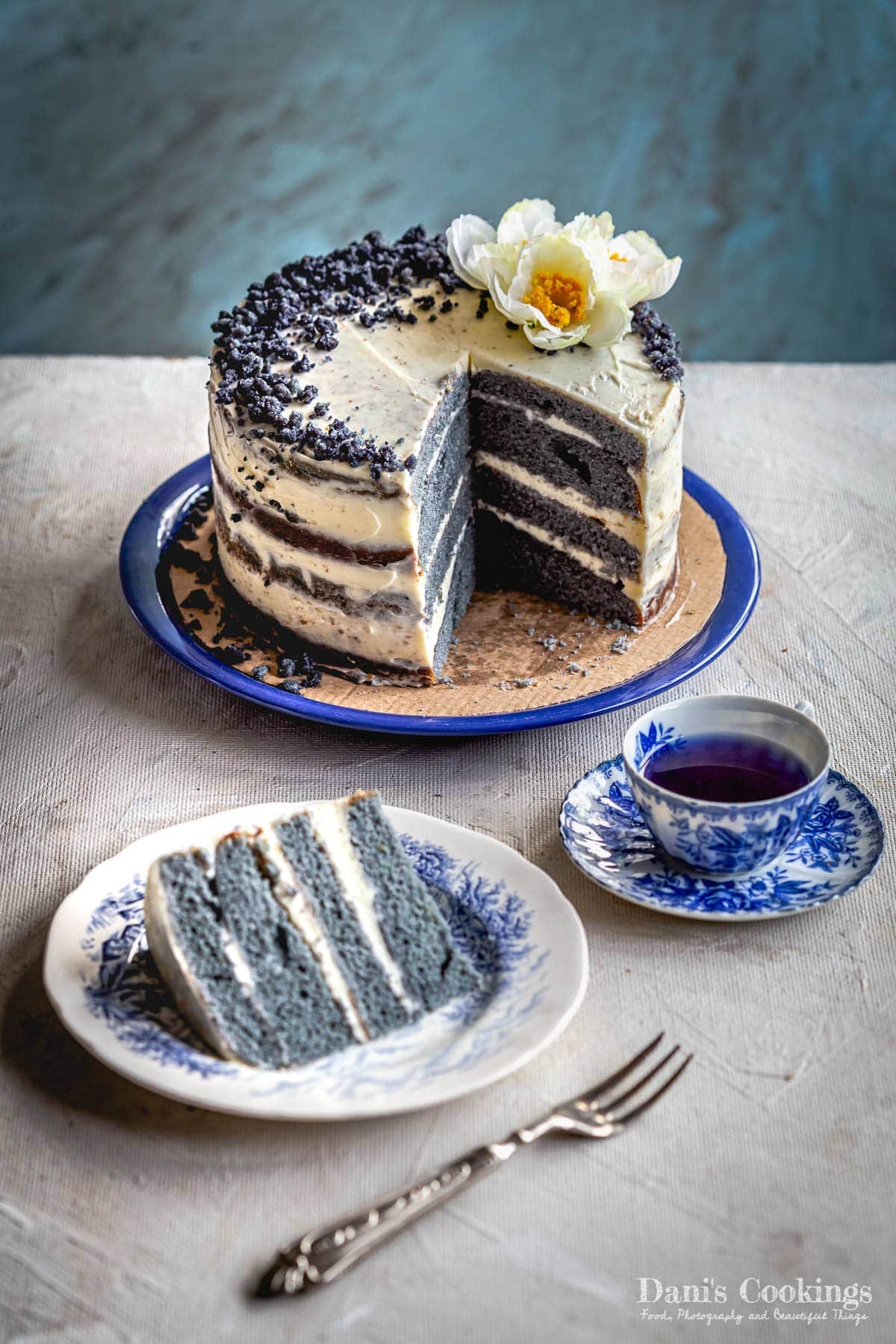 If you made the recipe, please share in the comments how it went! I would also love to see your creations in Instagram!
Here are few more recipes using natural food dyes:
📝 Recipe
Blue Velvet Cake
Ingredients
For the layers:
2 cups/ 240 g

cake flour

,

see notes

½ cup/ 120 ml

EVO oil

,

or other vegetable oil

1 cup/ 200 g

caster sugar

½ cup/ 120 ml

whole milk

1,5

tablespoon

white vinegar

4

eggs

2

teaspoon

baking powder

2

teaspoon

vanilla extract

1

tablespoon

cocoa powder

1

tablespoon

butterfly pea powder

,

see notes
For the frosting:
14 ox /400 g

cream cheese

½ cup/ 110 g

butter

,

soft

1 ¼ cup/ 160

g

icing sugar

2

teaspoon

vanilla extract
Instructions
For the cake base:
Preheat oven to 350º F/ 180º C. Grease two 7 inch/ 18 cm baking tins very well and line them with circles of parchment paper.

Combine milk and vinegar and stir.

In a large mixing bowl combine sifted flour, baking powder, sugar, cocoa powder and butterfly pea powder. Whisk very well.

Add the eggs and whisk again. The mixture would become very thick. Add vanilla and oil and mix again.

Gradually add the milk with vinegar, whisking gently until absorbed. The batter should not be very thick.

Divide the batter between the two pans. Bake for 30-40 minutes or until a toothpick inserted in the center comes out clean.

Let the cake bases cool completely before assembling the cake. For best result, refrigerate them for 3-4 hours before cutting them.
Frosting:
Using an electric mixer beat butter, powdered sugar and vanilla for 2-3 minutes in a large mixing bowl, until smooth and fluffy. Add the cream cheese and beat for another 2-3 minutes, until creamy.
To assemble:
Using a long serrated knife, cut horizontally each layer in two. Trim any uneven parts from the top of each base (keep them for decoration).

Place one layer on a serving plate and cover it with about ¼ of the frosting. Place another layer on top.

Continue the process until using all layers.

Spread the remaining ¼ frosting all around the cake with an offset spatula.

Decorate with the crumbs made of the trimmed layers. Add 1 teaspoon butterfly pea powder to the crumbs for a more intensive shade.

Let the cake stay in the fridge for few hours before serving.
Notes
Cake flour makes the baked good fluffier as it contains less gluten. However you can use all-purpose flour instead.
You can also use melted butter instead of oil or a mix of both.
Instead of butterfly pea powder you can use blue spirulina powder: about 1-2 tsp
You can get Butterfly Pea Powder or Blue Spirulina from Forest of Herbs with 15% discount with code DANI15