Imagine one of the best cakes on earth made in a version that is actually good for you! The Healthy Red Velvet Cake will surely impress you: moist layers, delicious frosting and all that made with nutritious ingredients. Last but not least, it is also quite easy to prepare.
What is so special about this dessert
If you never tried this famous Red Velvet Cake you might be wondering what is the big fuss about it. Why red? Why velvet? And what flavour is actually red velvet?
The secrets of this cake are three:
First, its flavour is a combination of vanilla and cocoa. In fact the cocoa is just a tiny bit, so its taste is not very distinctive. However the overall impression is really nice.
Secondly, the batter is made with buttermilk plus vinegar, which make the layers incredibly moist and tender. Every bite literally feels like "velvet".
The third point is the red colour: nowadays in the ordinary version typically a red colouring is used, but that was not always the case. Most probably when this cake was created in the 19th century, the cocoa powder itself, due to not being alkalised, was making a reaction with the vinegar and buttermilk and so was giving a reddish colour to the layers.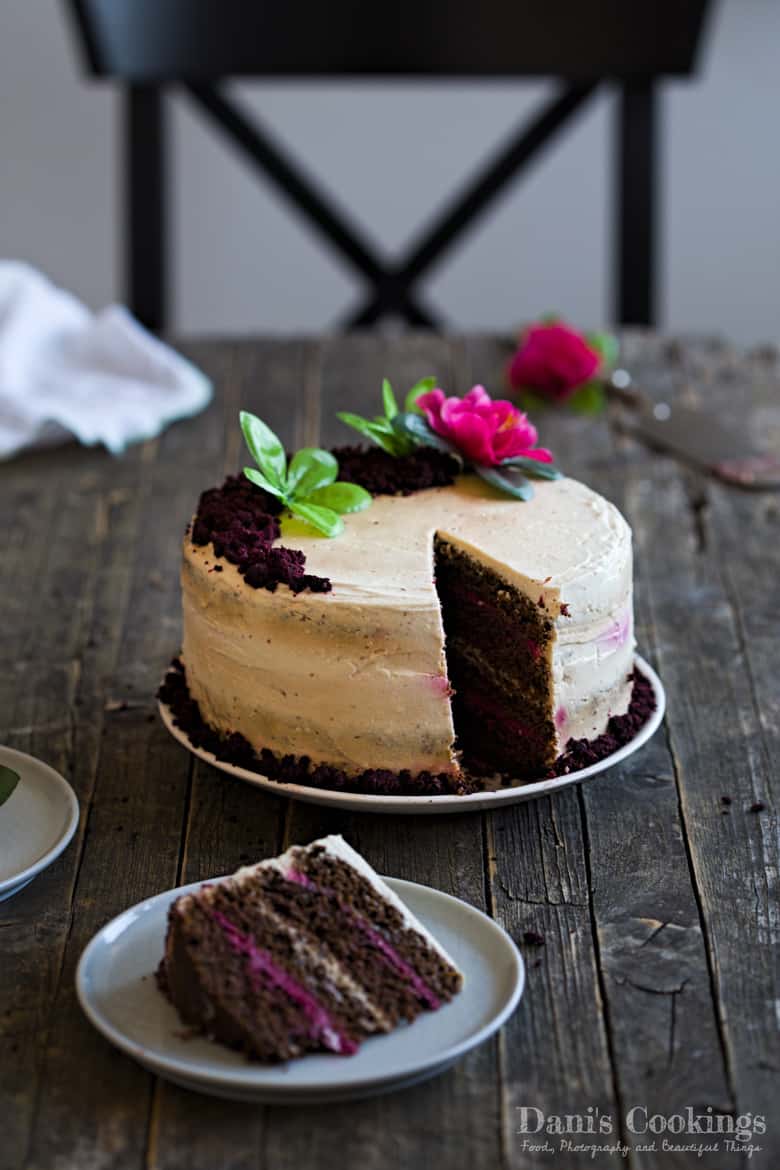 How do you make this cake healthy
It is all a matter of substituting some of the classic ingredients with healthy ones. I made a careful selection because I wanted to keep the perfect texture and great taste of the "real" Red Velvet Cake. And I managed a perfect result!
Below are the necessary ingredients for my recipe:
Cocoa Powder: preferably choose the natural kind because it hasn't been through the chemical process of alkalising. In addition the natural cocoa powder reacts well with the baking soda and contributes for the soft texture of the cake.
Coconut Sugar: with lower glycemic impact and higher nutrition qualities than the cane sugar.
Spelt Flour: known for its nutritious qualities
Beetroot Powder: works as a colorant but it is also quite healthy. However I found out that after baking its colour changed from bright red to brownish. Still I believe it is a great addition to the cake and might be contributing for its tenderness
Olive oil: one of the healthiest oils in the world
Eggs
Buttermilk + Vinegar
Cake flour
Baking Soda
Vanilla extract
How easy is this recipe
It is quite easy, in fact! You don't need any special equipment, apart from two cake pans (or one but taller), a mixer and a rubber spatula. The method of mixing the batter is the simplest one: first mix the dry ingredients in a bowl and then add gradually the wet ingredients. No butter creaming, no long beating of eggs.
What about the frosting
Traditionally this cake was made with a variation of buttercream frosting. Today you can find it most often with cream cheese frosting. It is just the perfect addition to the tender velvet layers! Nevertheless, if you want to try Red Velvet with a chocolate frosting or just with whipped cream, it would be great as well.
The current healthy version has a cream cheese frosting sweetened with maple syrup. I divided it in two and coloured one half with beetroot powder: a step that I found great for the final effect of the cake but is totally optional.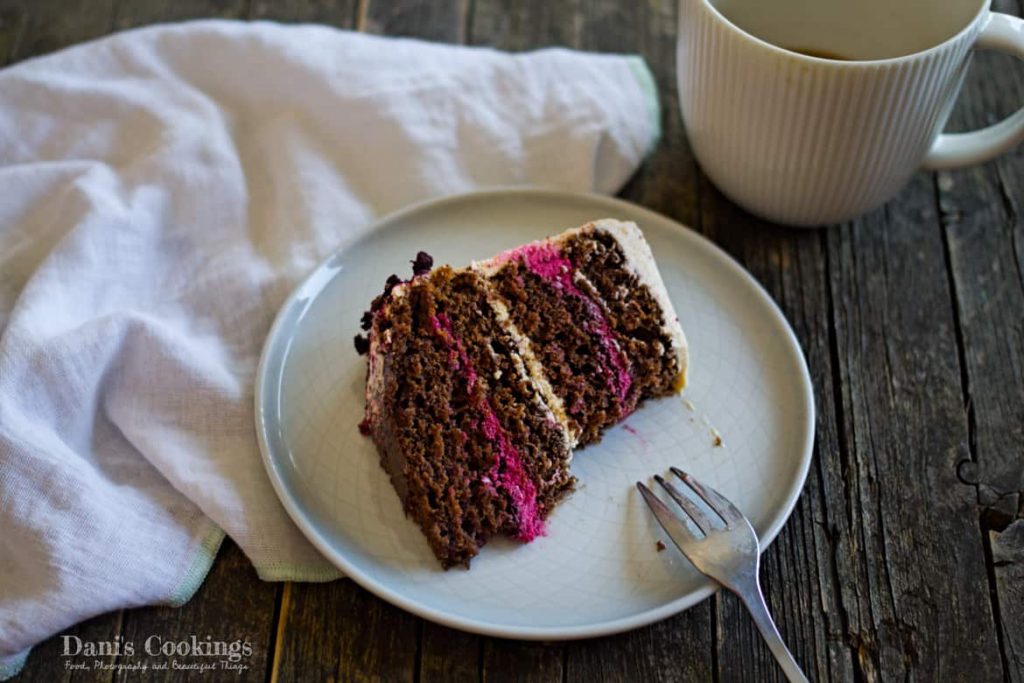 I would be very happy if you enjoy this recipe! It is one of my favourites, probably because I am addicted with the Red Velvet taste and texture 🙂
As usual, I would love to receive your comments regarding this recipe. Please let me know if you have made it!
Here are few more similar recipes that you might enjoy:
Healthy Red Velvet Cake
Ingredients
For the cake base:
1 cup/ 200 g

coconut sugar

3

eggs

1 ⅓ cup/ 150 g

spelt flour

¾ cup/ 100 g

cake flour*

2 tablespoon/ 30 g

beetroot powder

1 cup/ 240 ml

buttermilk

1

tablespoon

vinegar

1 tablespoon/ 10 g

cocoa powder,

natural*

2

teaspoons

vanilla extract

1

teaspoon

baking soda

1,5

teaspoon

baking powder*

⅓ cup/ 80 ml

olive oil
For the frosting:
¼ cup/ 75 ml

maple syrup

16 oz/ 450 g

cream cheese

⅓ cup/ 80 g

butter

,

soft

2

teaspoon

vanilla extract
Instructions
Cake Bases:
Preheat oven to 180 degrees C /350 degrees Line two 7 inch / 18 cm cake pans with circles of baking paper. Grease well the pans.

In a large mixing bowl combine coconut sugar, spelt flour, cake flour, cocoa, beetroot powder, baking soda and baking powder. Start whisking with a hand whisk (or with the mixer at a very low speed), until the ingredients are blended. Gradually add the eggs, oil and vanilla and continue whisking If you are using a mixer, you can increase the speed a bit. At the end add the buttermilk, mixed with the vinegar. Whisk just until all ingredients are combined well and the batter is smooth. Do not overbeat!

Transfer the batter to the prepared pans, dividing it in equal halves. Bake about 30-40 minutes or until a toothpick inserted in the centre comes out clean.

Remove the bases from the oven. Let them cool completely before assembling the cake.
Frosting:
In a large mixing bowl combine all ingredients except the beetroot powder. Beat with an electric mixer at high speed until fluffy and smooth.

Optionally divide the frosting in two equal parts and add the beetroot powder to one of them. Beat until the colour is uniform.
Assembling:
Using a large serrated knife, cut horizontally each base into two equal layers. Trim any uneven parts (they will be used for decoration).

Place one layer on a serving plate and put half of the red frosting on top (in case you made two colours, otherwise use about ¼ of the whole frosting). Place another layer on top and cover it with about ½ of the white frosting. Continue the process with the other two layers, alternating the frostings. Cover the cake on top and on the sides with the remaining white frosting.

Decorate as desired. I used artificial flowers and crumbs from the trimmed parts, coloured with some beetroot powder.
Notes
If the cake flour is self raising, add only the baking soda and skip the baking powder
Natural cocoa powder (acid) has a lighter colour, while the dutch process (alkaline) is darker. Alternatively you can use dutch process cocoa powder but natural is preferred for this recipe.
If the batter seems too thick, you can add a few tablespoons of water at the end. Add them one by one to avoid making the batter too thin.
You can order Beetroot Powder with 15% discount from Forest of Herbs with promo code DANI15 The discount is valid for all the products in the shop!