Bundt cakes are pretty, delicious and also easy to make. And this Chocolate Olive Oil Cake with Orange Glaze will impress everyone around you! It has a nice taste, decadent texture and festive flavour! One of the best cakes for any occasion.
Why is this recipe good
This is the perfect fuss-free recipe which looks and tastes delicious. It can be prepared in about 1 hour, including the baking time. The cake has a wonderful cocoa taste which is perfectly complemented by the orange flavour of the glaze. It is decadent but easy and even novice bakers can make it. Last but not least, it is healthier than most cake recipes out there.
What ingredients to use
This bundt cake is made with extra virgin olive oil and coconut sugar, which are not only healthy but contribute to the nice taste and texture of the dessert. The coconut sugar brings a caramel taste which is a great addition to the orange flavour of the glaze. The olive oil makes the texture softer and smoother.
Other ingredients used in the cake are: all-purpose flour, cocoa powder, baking powder, baking soda, plain yogurt, eggs, chocolate, orange juice, zest and orange extract for the glaze.
Find all the ingredients, their exact quantities and the preparation steps in the recipe card, below the post!
Is this cake easy
To make this bundt cake you don't even need a mixer: just a whisk and a bowl to mix the ingredients. The key is to follow the exact recipe steps, in order to make the batter.
The recipe tips below will help you additionally to achieve a fluffy cake with great texture!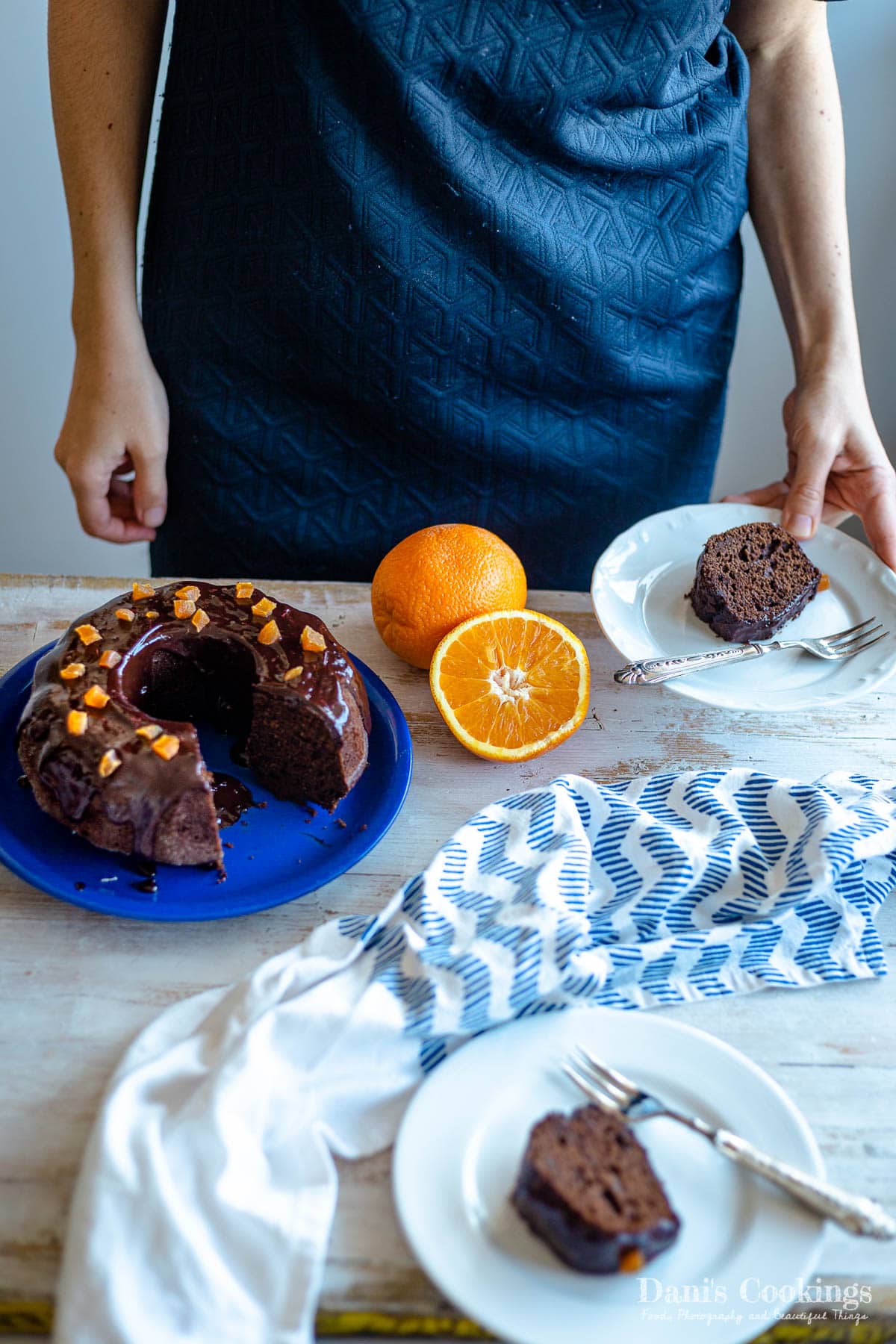 Recipe tips
One of the most challenging moments when you bake bundt cakes is to make sure they would come out of the pan without breaking. This is never going to be a problem for you any more once you learn how to grease and flour very well the bundt pan. To do that I normally place some oil and some flour inside the pan and start brushing it all around with a kitchen brush. You can also use cooking spray, soft butter and any other fat you prefer. Just make sure you spread the mixture everywhere around the pan.
If you want to make this cake only with unrefined ingredients, instead of all-purpose flour you can use whole grain spelt flour or a mixture of both.
The olive oil and the coconut sugar as well can be substituted by another kind of vegetable oil and by brown or granulated sugar. However this will result in the cake loosing part of its taste and most of its nutrition qualities.
I hope you would like this cake as much we I did! It is surely one of the simplest but impressive desserts that you can make for even special occasions. Don't forget to share with me how it went if you have prepared it!
Here are some more bundt cake recipes that you might like:
Peanut Butter Bundt Cake with Cheesecake Filling
Apple and Chocolate Marble Bundt Cake
Lemonade Bundt Cake
Chocolate Olive Oil Cake with Orange Glaze
Ingredients
For the Cake:
1

cup/ 180 g

coconut sugar

3

eggs

⅓

cup/ 80 ml

olive oil

,

extra virgin

1 ⅓ cup / 160 g

all-purpose flour

⅔

cup/ 150 g

plain yogurt

1

teaspoon

baking powder

½

teaspoon

baking soda

¼

cup/ 25 g

cocoa powder

2

teaspoons

vanilla extract
For the Glaze:
3,5

oz/ 100 g

dark chocolate

juice of 1 orange

,

or half, if it is large and juicy

1

teaspoon

orange extract

,

optional

candied orange peel
Instructions
Cake
Preheat oven to 350º F/ 180º C. Grease and flour very well a small bundt pan.

In a bowl combine cocoa powder, flour, baking soda and baking powder. Mix to blend and set aside.

In a large mixing bowl whisk together eggs and sugar for about 1 minute, until smooth. Add oil and vanilla extract and whisk again, until combined. Add also the yogurt and whisk to combine.

Gradually add the dry ingredients, folding them gently with a rubber spatula, until absorbed.

Pour the batter into the prepared pan. Bake for about 30 minutes or until a toothpick inserted in the centre comes out clean.

Let the cake cool completely in the pan.

Carefully run a knife around the edges and then invert it on a serving plate. Pour the glaze on top. Sprinkle with orange zest and/ or decorate with candied orange peel.
Glaze:
Melt the chocolate in a double boiler. Add the orange juice and orange extract. Mix well and pour on top of the cake.
Notes
To grease the pan: place some oil, shortening or cooking spray and 1 tablespoon flour in the pan. Use a kitchen brush to mix them and spread very well the mixture around the pan until every surface is covered.
You can substitute all or half of the all-purpose flour with the same quantity of whole grain spelt flour.
Alternatively instead of coconut sugar you can use brown cane sugar.
Store the cake in airtight container for 2-3 days at room temperature or 4-5 days in the fridge.
This cake is small. For a standard bundt pan you need to double the ingredients.