The Double Chocolate Oatmeal Cookies are a healthier version of the chewy and decadent brownie cookies. They are the perfect snack for every chocolate lover. Try them out and you won't stop baking them in the next few weeks!
Why are these Double Chocolate Oatmeal Cookies special
They are delicious, full of cocoa and chocolate chips and also healthier than most chocolate cookie recipes out there! They are chewy and not too sweet. They are simply the perfect cookies for every chocolate lover!
What makes these Double Chocolate Oatmeal Cookies healthier
These cookies are made without refined sugar. They also contain some whole grain spelt flour and oatmeal, known for their healthy qualities. Last but not least, they are made with pure, natural butter, which is among the healthiest fat choices for baking.
And while we can't say they are an absolutely healthy treat, they are certainly a much better choice for you and your family than any regular cookie recipe made with white sugar and bleached flour.
How to make soft and chewy cookies
Everyone loves soft and chewy cookies. I am not a big fan of the hard ones, so I have developed several soft cookie recipes. If you are interested, check out the ones below:
Double Chocolate Cookies with Cheesecake Filling
Soft Apricot White Chocolate Cookies
Soft Pumpkin Cream Cheese cookies
White Chocolate Pistachio Cookies
Soft Lemon White Chocolate Cookies
Here are several tips you can follow to obtain the desired softness and tenderness of your cookies:
– Use brown sugar: it is not only healthier but it contains more moisture which makes the batter softer
– More eggs: the yolk gives particular tenderness to the batter. Adding more than one egg or just an additional yolk will increase the batter softness.
– Add cornstarch
– Use real butter and melt it, don't cream it: creaming the butter would create more air which will cause the cookie to spread and become crispy.
– Don't beat the eggs too much: same reason as above
– Use just a little baking powder: with a lot of raising agent the cookies will spread a lot and the consistency might not be soft
– Refrigerate the dough before baking the cookies: the dough needs to be firm enough to avoid excessive spreading
– Don't bake too long: you need to bake just until the cookies are set and still very soft. Overbaking will result in hard and crispy cookies.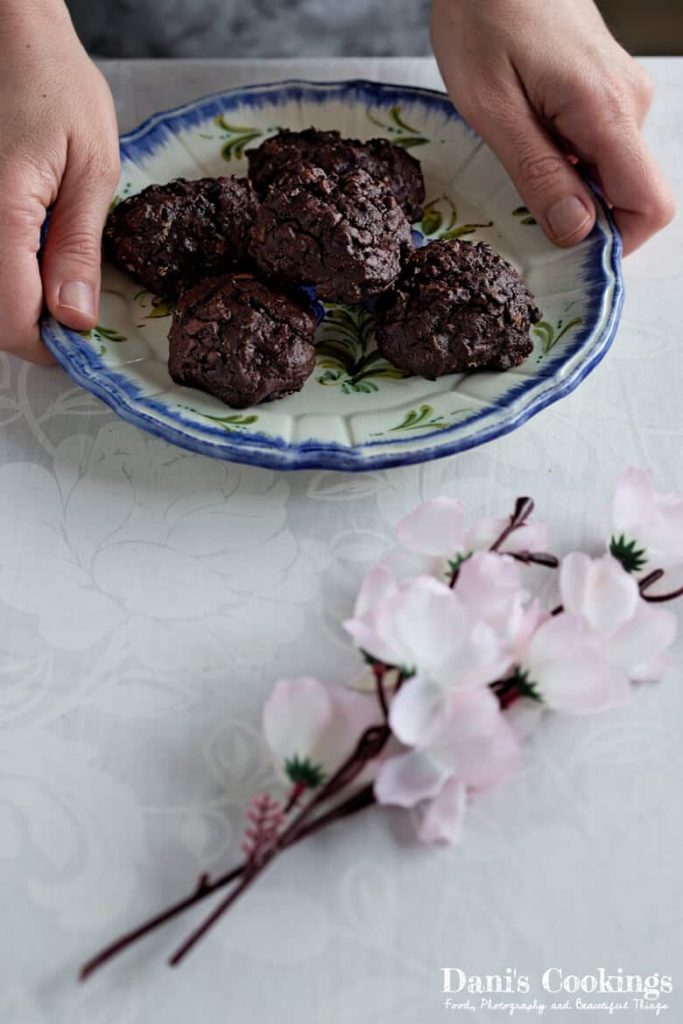 Cookies are the easiest possible baked dessert and that is valid for this recipe too. If you bake them, let me know in the comments about your experience!

Double Chocolate Oatmeal Cookies
Ingredients
½

cup

butter

,

(120 g)

½

cup

cocoa powder,

(50 g)

1

cup

chocolate chips

,

(150 g)

2

eggs

⅓

cup

all purpose flour

,

(50 g)

¼

cup

spelt flour

,

(30 g)

⅔

cup

brown sugar

,

(135 g)

½

teaspoon

baking powder

2

teaspoons

vanilla extract

½

cup

rolled oats

,

(50 g)
Instructions
In a medium bowl combine cocoa powder, all purpose flour, spelt flour and baking powder.

Combine butter and brown sugar in a heatproof bowl. Place the bowl over a pan of gently simmering water (double boileand mix until the butter is melted.

Let the mixture cool for few minutes and transfer it to a large mixing bowl. Add eggs and mix well, until combined. Add vanilla extract and mix shortly, until combined. Gradually add the dry ingredients, mixing gently with a wooden spoon, until absorbed. At the end add the oats and then the chocolate chips. Mix just until distributed in the dough.

Cover the bowl with cling film and let the dough chill in the fridge for 30-60 minutes.

Preheat oven to 350 degrees F (180 degrees C). Line two large baking tins with parchment paper.

Using an ice cream scoop make balls out of the dough and arrange them on the baking paper, not too close one next to another.

Bake for 10-12 minutes or until the cookies are just set but still very soft.

Let them cool on a wire rack.