I love fresh homemade bread. And I have a special thing for focaccia. If you have tried this flat Italian bread, I am sure you understand why: it is tasty, full of flavours, crispy and fluffy at the same time. It is just perfect!
How about if I told you that you can make a focaccia at home by yourself! Even without any baking experience. Read on to find out how easy it is to make Focaccia Bread.
What is Focaccia
Focaccia is a flat Italian bread with a texture similar to pizza. It is very typical in all parts of Italy where you can find many varieties. The most common is rosemary focaccia. However it can be covered with different products and sometimes can resemble pizza.
Focaccia is one of my favourite breads ever! I love it because it is full of flavours, crispy on the bottom and fluffy inside. It is the perfect bread for any occasion!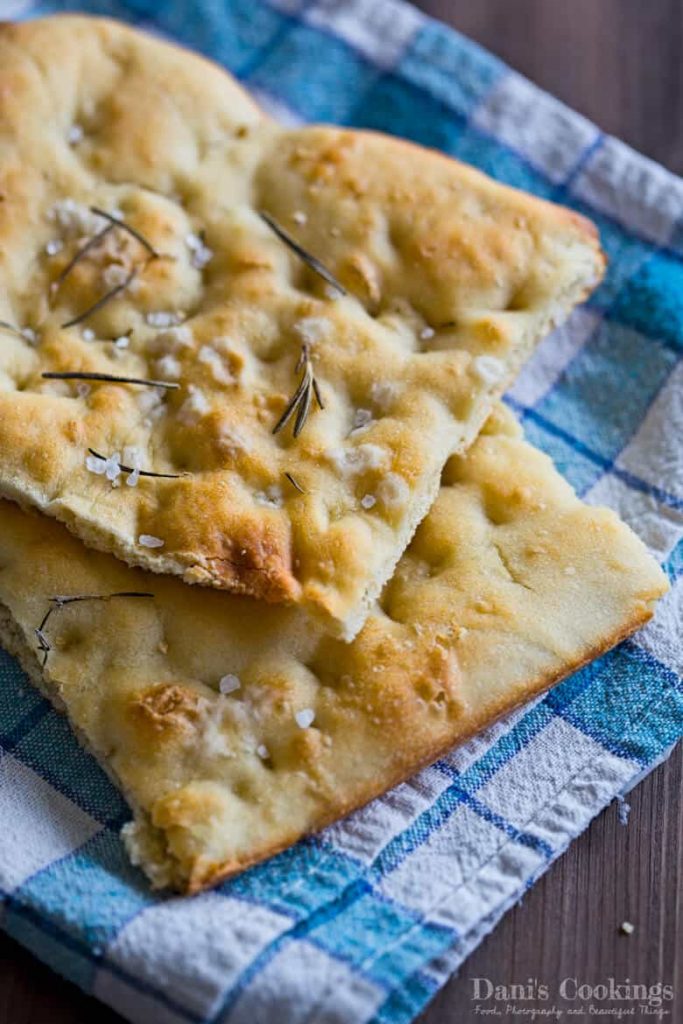 What do you need for the Easy Focaccia Bread Recipe
It is made with just few ingredients which I am sure are already available in your home:
– Flour: traditionally 00 flour is used for focaccia but all purpose flour is just fine.
– Warm water
– Yeast
– Sugar
– Salt
– Olive oil
– Rosemary leaves
How to make Easy Focaccia Bread
It is literally just mixing all ingredients, letting the dough raise (twice) and then baking it. The active time is minimal, the only challenge is to wait for the dough to increase its volume. This is the perfect recipe to make when you are busy cooking a dinner but you are craving some homemade bread.
I made a video to show you how simple it is to make this Easy Focaccia!
How do you eat Focaccia
You can serve Focaccia as antipasto, together with the meal or you can even make sandwiches with it! It is a very versatile kind of bread which is also very tasty thanks to the generous quantity of olive oil that it contains.
How long will Focaccia bread stay fresh?
Focaccia is best served warm on the day when it is made. It can be stored in an airtight container for one more day. You can reheat it in the oven, after brushing it with some water and olive oil. Fresh focaccia freezes well after cooling down to room temperature.
If you are looking for more easy bread recipes, check out the following ones:
Easy Cheese Bread (Tutmanik)
Cheese & Olive breads
Cheese Stuffed Pretzel Rolls

Easy Focaccia Bread
Ingredients
For the dough:
4

cups

all purpose flour

,

500 g

1 ¾

cup

warm water

,

400 ml

2

packages active-dry yeast

,

0.5 oz/ 14 g

1

teaspoon

sugar

1

teaspoon

salt

¼

cup

olive oil

,

50 ml
To garnish:
¼

cup

olive oil

,

50 ml

fresh rosemary leaves

sea salt
Instructions
In a large bowl mix water, yeast and sugar. Stir until the yeast is almost dissolved and add ¼ cup olive oil and salt. Gradually add the flour, mixing with a wooden spoon, until it is absorbed. A sticky and soft dough will form. Cover the bowl with cling film and put it in a warm place for 1,5-2 hours. You can wrap the bowl with tea towels to increase the warmth. The dough should almost double its volume.

Line a big rectangular tin with a sheet of parchment paper. Brush the paper and the sides of the tin with olive oil.

Grease your hands with some of the remaining olive oil. Extend the dough in the prepared tin. Leave the focaccia to in a warm place for another half hour.

Use your fingers to poke the dough in order to form dimples. Sprinkle sea salt and fresh rosemary leaves on top of the focaccia. Optionally brush it with more olive oil.

Bake for 20-30 minutes or until golden brown.
Notes
This focaccia is relatively thin. If you want yours to be thicker, bake it in a smaller tin or in a 10-12 inch round cake pan.
Keep leftovers in an airtight container for 2 days. Reheat focaccia in the oven, sprinkled with water and olive oil.
Recipe adapted from: Fatto in Casa da Benedetta