This is not the usual pie recipe. It looks almost like a pie but it is a mix of cookies, cream, chocolate and pudding in a pie dish. It is a bit messy when you serve it, nevertheless it is really delicious and also easy to make.

I had a craving recently (in fact so many of my recipes have been a result of cravings) for a dessert made with cookies soaked in frosting to the point they are nicely soft. Indeed almost everyone likes softened cookies: when I was a kid one of my favourite breakfasts was milk with floating cookies in it. The type of cookies in this incredible "dish" can be only one: as hard as possible so there is no chance for them to get dissolved in the milk at certain point of the breakfast. At the same time the milk can't be hot: it must be lukewarm. If you are a kid, chances are that you are eating slowly while soaking every cookie with a lot of attention. This means that at one point the milk will become almost cold and there will be even less chance for the cookies to get too soft… I tried to eat that breakfast as an adult but it wasn't fun any more: adults don't soak their biscuits carefully and don't create a whole story around soaking cookies in a bowl of milk, they just eat.
Italians, on the other hand, are the masters of soaking cookies (someone once told me French do the same but I can only speak about Italians because I happen to live with one). They usually soak them in their morning latte. The cookies are special (of course!). Unlike my childhood breakfast cookies, these ones are not too hard but not too soft either, in fact they are specifically made to be soaked in hot milk for a few seconds, until becoming nicely soft. I like that kind of breakfast too but there is always the risk half of your cookie to fall into the milk if you leave it slightly longer inside… And then it gets dissolved – a really irritating moment which can make everyone quite upset.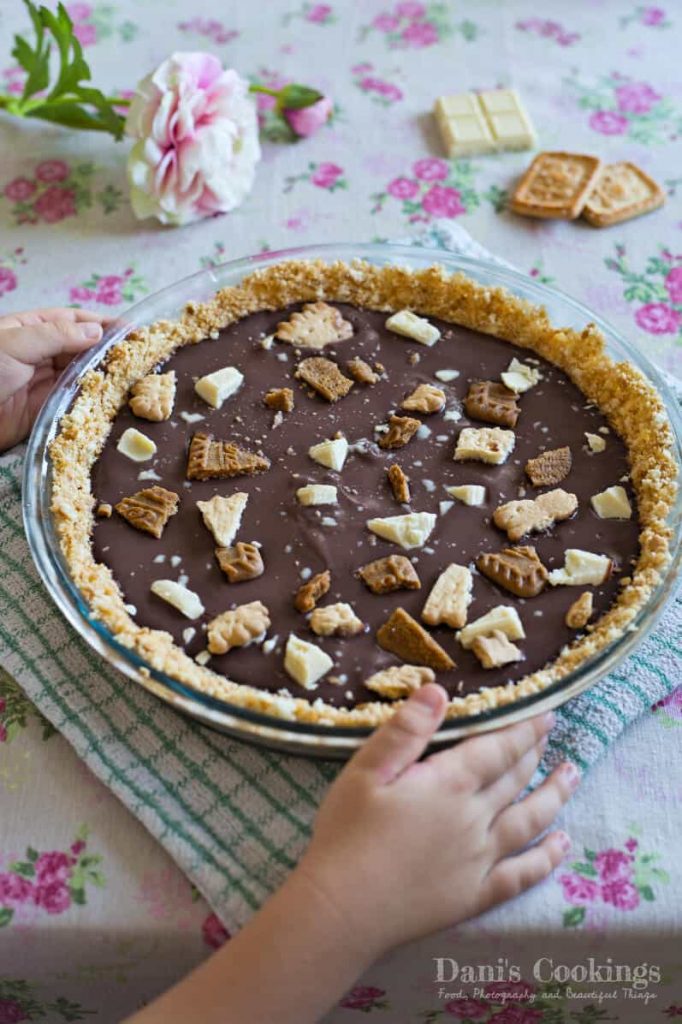 When it comes to desserts, cookies always get nicely softened if they are close to moisture: for example in frosting, or pudding. And so it came to my mind that I could make a pie with soaked cookies. And chocolate!

My idea was actually quite good, as I realised afterwards. I wanted the pie to be easy so I wouldn't spend too much time in the kitchen and at the same time everyone to be able to make it.
I had a little helper – as you can see on the photos. He was very eager to help with the pie and also to assist me during the photo session. He even made some quite extravagant food styling proposals: to put one or more of his toys on the scene 🙂 They were not accepted, of course, but this didn't stop his enthusiasm. Eventually he was prised with two cookies, so his efforts were worth it 🙂
Easy No Bake Cookie Pie
Ingredients
For the crust:
170

g

plain cookies

,

crushed into crumbs

70

g

butter

,

melted
For filling and topping:
1

pack chocolate pudding powder or custard powder

,

for 500 ml milk

450

ml

milk

4

tbs

sugar

200

g

whipping cream

100

g

white chocolate,

melted

pieces

of cookies and chocolate
Instructions
Crust:
In a pie dish combine cookie crumbs and melted butter. Mix until all crumbs are covered with butter. Press the crust onto the bottom and the sides of the pan. Leave it in the freezer while preparing the filling.
Filling:
Prepare the pudding according to the package instructions, with 4 tbs sugar and 450 ml milk instead of 500. Let it cool almost until room temperature whisking from time to time (this is not necessary if you are preparing an instant pudding as it will not be hot). Pour the pudding into the pan, on top of the crust. Spread some broken cookies and chocolate on top.
Topping:
Using an electric mixer whip the cream until very thick. With a rubber spatula gradually fold in the melted white chocolate. Mix gently until smooth.

Spread the topping on top of the filling. Cover the pan with cling film and let it stay in the fridge for 4-6 hours before serving.