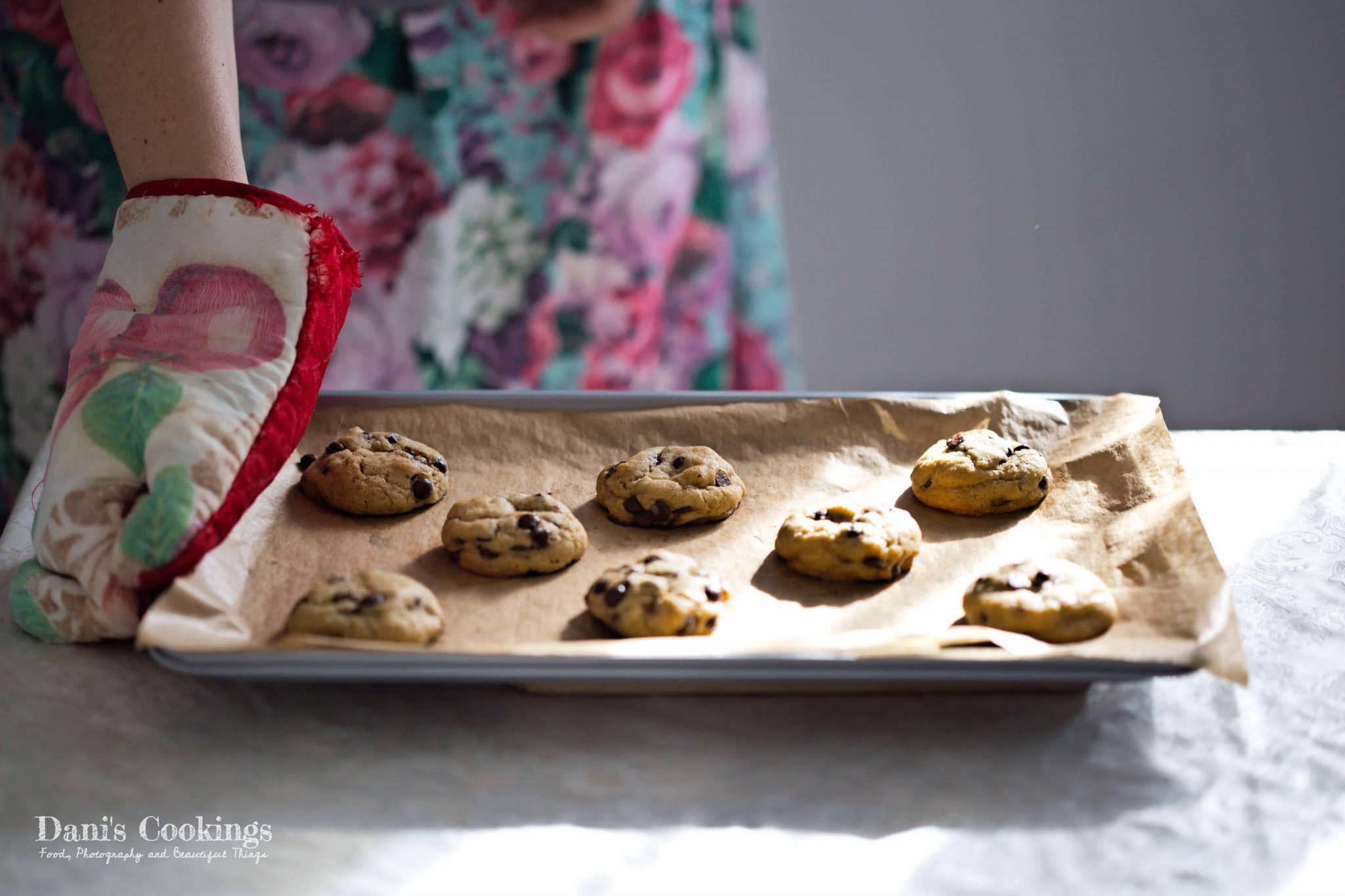 Until recently I wasn't a big cookie fan. That changed when I started experimenting with different cookie recipes: I discovered a whole new world of delicious tastes! So when my birthday approached I decided to dive into a project I had never experimented before: to bake a very large batch cookies (more precisely 150 cookies) and bring them to my coworkers in the office.

I am currently working in a team of around 70 people, but I also have additional peers with whom I communicate on a daily basis. That makes it a pretty high number of coworkers around me. Nevertheless I really wanted to bring to everyone homemade sweets for my birthday. Obviously cake would have been a huge challenge not only to bake but also to bring. The logical solution was cookies: the quickest dessert to make, and the easiest to transport. And I wanted these cookies to be really good!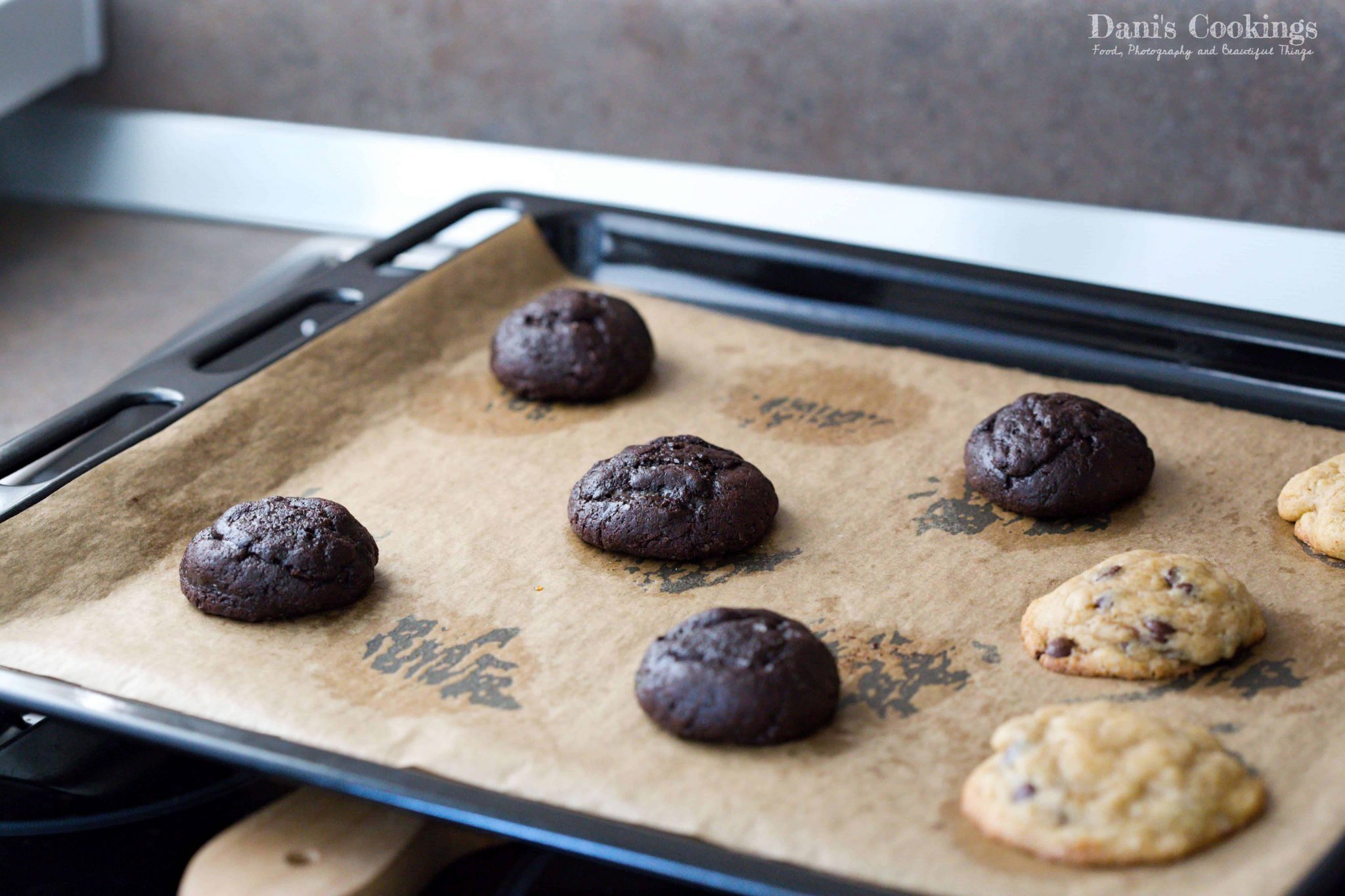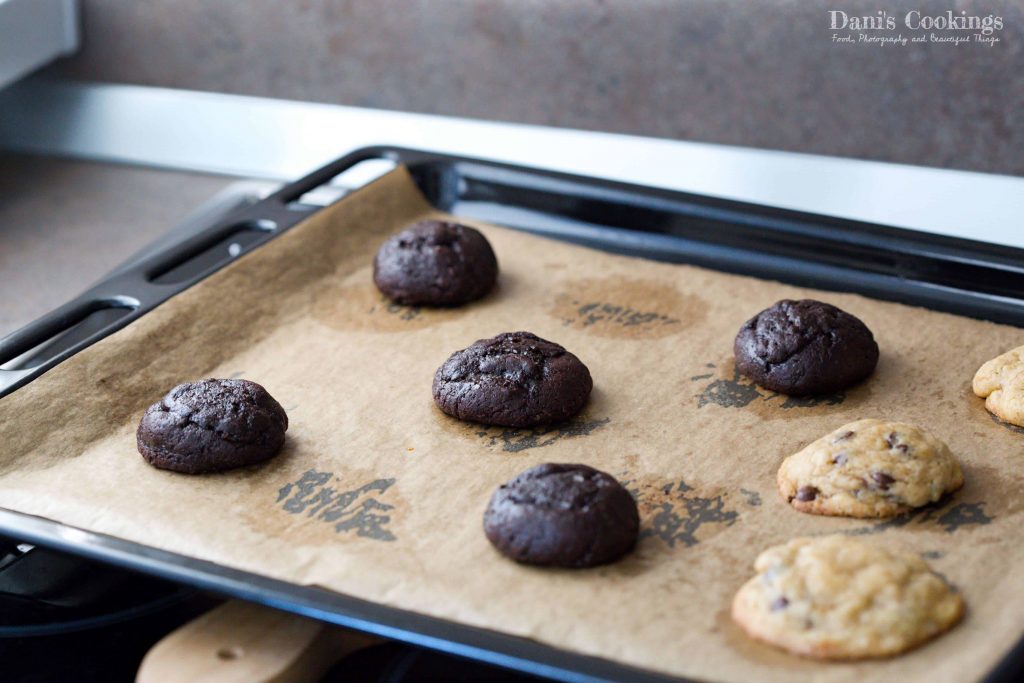 I decided to bake 4 kinds of cookies which recipes I selected very carefully. I chose 3 of my favourite bloggers' cookie recipes + 1 from my own blog which I really love. As I didn't have much free time, I made a very serious organisation which I will describe below in details in order to help you do the same if you decide one day to bake that many cookies for some event of yours.

I was really happy with the cookies as all 4 recipes were a real success. Only the one of the Marshmallow cookies did not satisfy me completely but the fault was only mine. Instead of following the original recipe and placing marshmallows on top, I decided to stuff the cookies with the marshmallows. This was not a good idea as the recipe contained quite a lot of baking soda. That made the cookies to grow a lot and to become relatively flat. As the cookies were spreading during baking, the marshmallows inside melted, caramelised and disappeared. The taste of the cookies still reminded great though.
These are the recipes I selected and my observations about each one
Fantastic cookies, the dream of each chocolate lover! The taste and smell like little brownies stuffed with caramel. After baking them I realised they were adapted from a recipe by Top with Cinnamon: another blog I really admire. No wonder I fell in love with these cookies at first bite!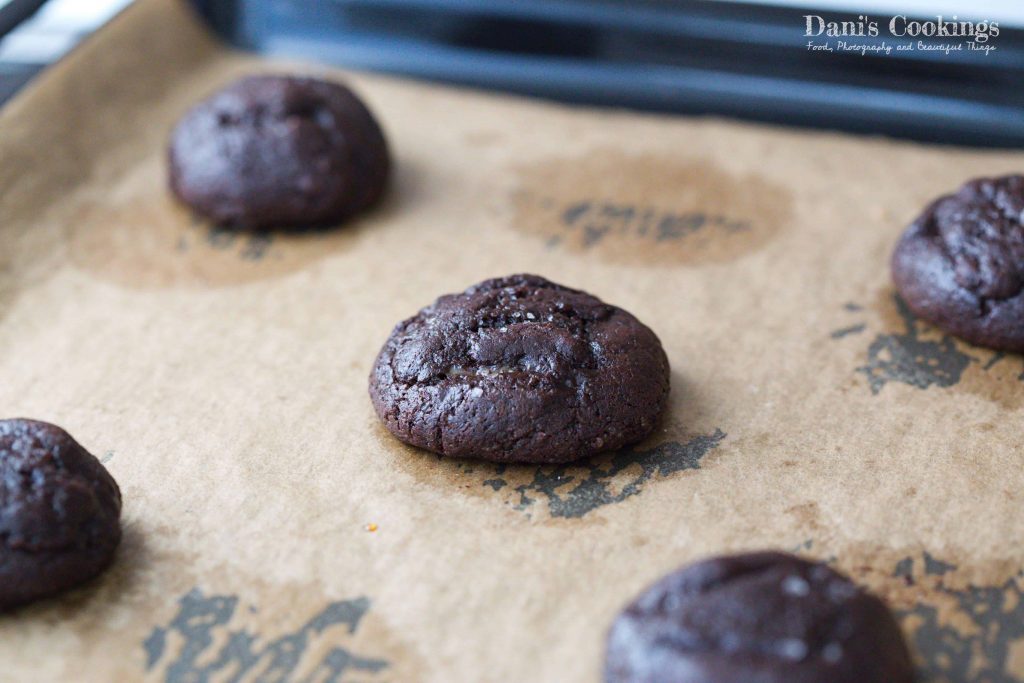 Another great chocolate cookie recipe! Instead of graham crackers, I rolled the cookies in biscuit crumbs (just regular biscuits). My cookies became quite flat: if you want to avoid too much spreading, you can slightly decrease the quantity baking soda in this recipe.
I knew that this recipe would be a success and it surely was: probably the best chocolate chip cookies I ever tried! They are so tasty, chewy and soft that you can eat several without stopping! These cookies don't need coffee or milk to be enjoyed, they are just fantastic!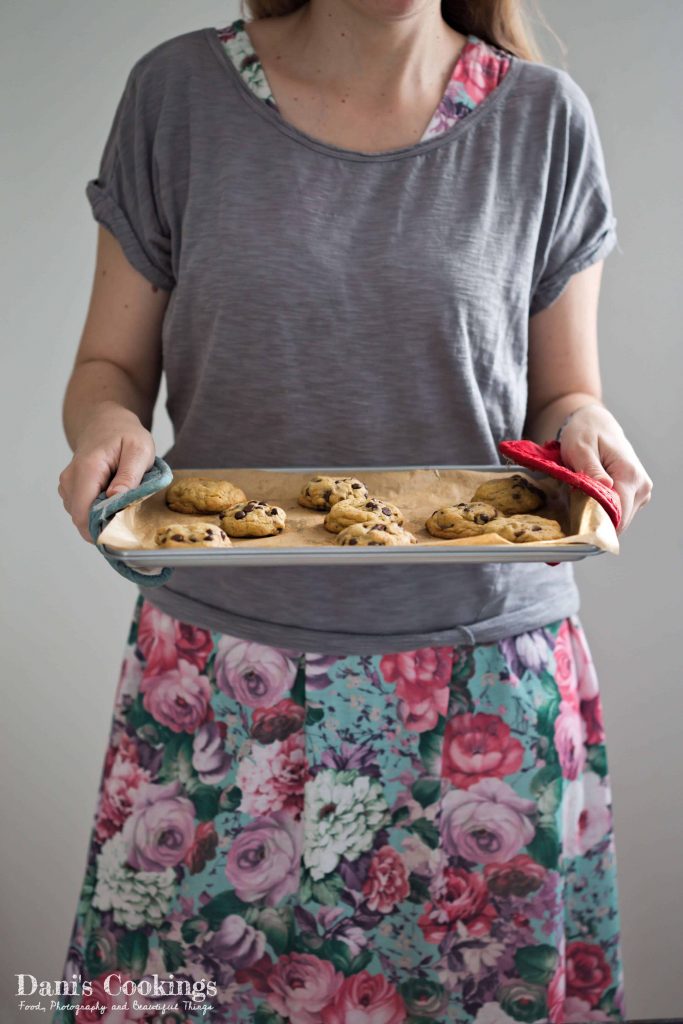 My own (well, adapted) recipe which I simply love. Very easy and delicious cookies for peanut butter lovers.
So, the next question is: how did I bake so many cookies to bring on a Friday? It wasn't that hard: I just made the cookies throughout the past two weeks and then froze them. Cookie recipes are normally fast and straight forward to prepare. Often they are just one bowl recipes.
How to make a large batch cookies for an event
Here is my detailed plan for you if you ever decide to bake such a big quantity:
Ingredients
4

batches

pre-made cookie dough
Instructions
Prepare cookie dough #1. Chill for 1-2 hours.

Make balls out of the cookie dough. Arrange on a tray and freeze for 1 hour (total: 1h 20 mins)

Arrange the semi frozen cookie balls in a plastic bag or a plastic box (10 mins). Freeze until ready to bake.

Follow the same steps with Cookie dough #2 and #3. Depending on the time you have, you could either do the whole process during one weekend (2,5 h to make and chill 3 kinds of cookie dough if preparing them on a roll + 4,5 hours to freeze and arrange in boxes, considering that you can only fit 1 trey in the freezer). Alternatively you could make different batches during weekday evenings.

On the baking day (I took 1 day off work just for the baking) first prepare cookie dough #4 (30 minutes). Let the dough chill while starting to bake the frozen cookies.

Bake cookies #1, 2 and 3: arrange them on the baking pan while still frozen and bake for about 2 minutes longer than the usual time.

You need on average 10-12 minutes baking time for each pan. If you manage to fit 10 cookies on a pan, you would need to bake 15 times or about 3 hours (180 minutes). This is the time for the best case scenario so you better leave to yourself 30-60 minutes of spare time just in case.
And this is it! I arranged my cookies in metal boxes which I purchased for this purpose.
If you decide to do a similar project, I would be happy to find out how it went! Don't hesitate to send me your feedback by commenting below or by sending me a personal message. Happy baking! 🙂