Zucchini bread is one of the easies and tastiest homemade sweet breads you can make. But how about preparing a version that is healthy, low carb and suitable for keto diet? Yes, you can have it all with this recipe! Read on to find out how to make a moist low carb zucchini bread that even people not on a diet will enjoy!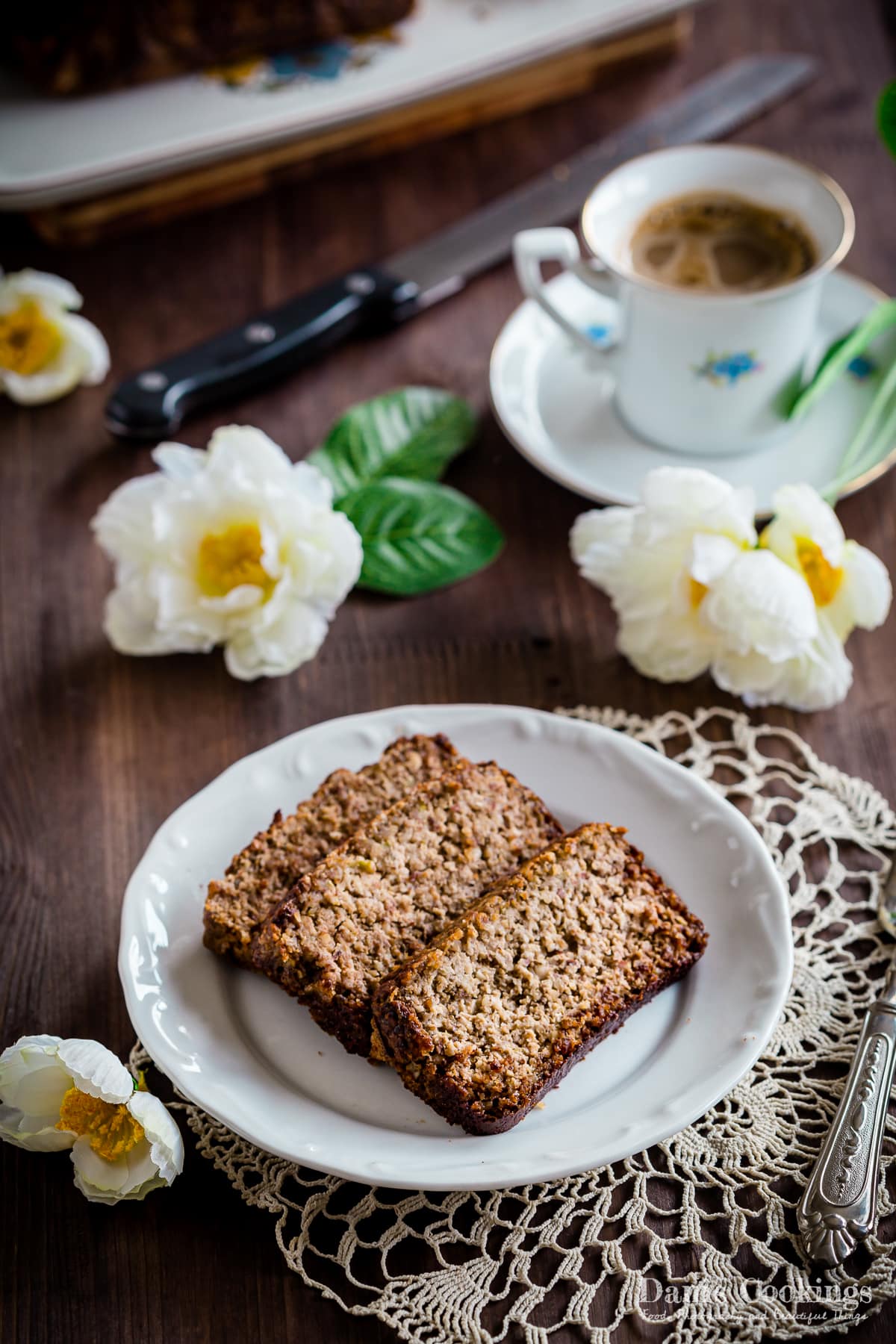 Why is this recipe good
This Keto Zucchini Bread is very easy to make and requires simple ingredients. It is very tasty, soft and naturally moist due to the grated zucchini inside. It is perfect for people who like nutty flavours because it contains both almonds and walnuts. The good ingredients and the fact that it is sugar free make this bread also healthy! No matter if you are following a low carb diet or not, you will surely appreciate this recipe.
What ingredients to select
This recipe calls for three types of dry ingredients: almond meal, ground walnuts and coconut flour. The combination of them all makes the batter tasty and also gives it a very pleasant moisture. Of course, you will need also wet ingredients: eggs, olive oil and sour cream. They are all full of nutrients, which is great if you are concerned about healthy eating. Last but not least, in order to make this a real dessert, you also need a low carb sweetener and baking powder.
The exact ingredient quantities and the preparation steps are below the post in the recipe card!
Recipe tips
This recipe is straightforward and easy. There is not much that can go wrong with it so I am not sure if any special tips are really needed. Probably the only thing you need to consider is the zucchini moisture content. If you notice that the grated zucchini are too wet, squeeze out some of the water before adding them to the batter.
As in most of my keto recipes, I normally use xylitol as a sweetener but if you prefer another kind like erythritol or stevia, you can easily substitute it.
This dessert is very good glazed with melted chocolate. The glaze, however, is totally optional: the keto zucchini bread is perfect even plain!
Let me know in the comments what you think of this recipe! If you made it, please share your experience.
You may want to check out also some of my other baked low carb recipes:
Easiest Keto Chocolate Mug Cake
Keto Chocolate Walnut Cake – Garash
Keto Zucchini Bread
Ingredients
For the bread:
1

medium zucchini

,

grated

3

eggs

⅞ cup / 100 g

walnuts

,

chopped

¾ cup / 100

g

almonds

⅓ cup / 70

g

xylitol

¼ cup / 60

ml

olive oil

1,5

teaspoon

baking powder

2

teaspoon

vanilla extract

1,5 tablespoon / 10 g

coconut flour

⅓ cup + 1 tablespoon/ 100 g

sour cream
For the chocolate glaze (optional):
Instructions
Bread:
Preheat oven to 350 degrees F/ 180 degrees C. Grease a 10 inch/ 25 cm loaf pan and line it with a sheet of parchment paper so that it hangs on the long sides.

In a food processor combine almonds, walnuts and xylitol. Pulse for few minutes, until the nuts age finely ground. Combine the mixture with the coconut flour and baking powder and mix very well. Set aside.

In a large bowl beat the eggs with an electric mixer until foamy. Add the oil and the sour cream and beat shortly to combine. Add the grated zucchini (if they are too wet, squeeze some of the water out). Mix with a rubber spatula until incorporated.

Gradually add the dry mixture and fold it gently with the rubber spatula until incorporated.

Transfer the batter into the prepared pan. Bake for 30-40 minutes or until a toothpick inserted in the centre comes our clean or only with few crumbs.

Let the cake cool and then cover it with chocolate glaze, if you want.
Glaze:
Melt the chocolate on a double boiler together with the cream. Pour it on top of the cooled zucchini bread.
Notes
You can use other keto sweeteners by choice instead of xylitol, if you prefer.
Nutrition
Calories:
238
kcal
|
Carbohydrates:
8.3
g
|
Protein:
6.8
g
|
Fat:
22
g
|
Saturated Fat:
6
g
|
Fiber:
3.5
g
|
Sugar:
1
g