Since ever I love crescent rolls! Of course, during the years my taste towards foods has been changing a lot and so did my crescent rolls preferences. When I was a kid I liked the sweet ones, without any filling. I grew up eating them: I used to spend my vacations at my grandparents's place outside of the city where almost every morning I was eating one or two crescent rolls or buns for breakfast. My grandfather was buying them from the local bakery. They were soft and sweet, covered with beaten eggs and sugar… Just wonderful!
At this time I completely disliked the marmalade filled rolls and I never ate them. But somehow few years later they became my favourite ones. That was just for a short period because soon I started getting more and more into savoury crescent rolls, preferably with cheese filling. I am still a big fan of these ones at the current stage of my life. I enjoy tasting different kinds of savoury crescent rolls whenever I find a bakery that makes them. And recently I remembered that I haven't baked such on my own for ages! I was missing this nice feeling of coziness in the house that comes with the wonderful smell of freshly baked bread rolls!
 So last week I decided to prepare some crescent rolls with feta and parmesan filling. I used dry yeast as a leveller for the dough: I love the smell of the baked goods made with yeast, that's why I didn't choose the soda this time. I smeared the rolls with beaten egg and sprinkled them with mixed seeds on top… Pure perfection!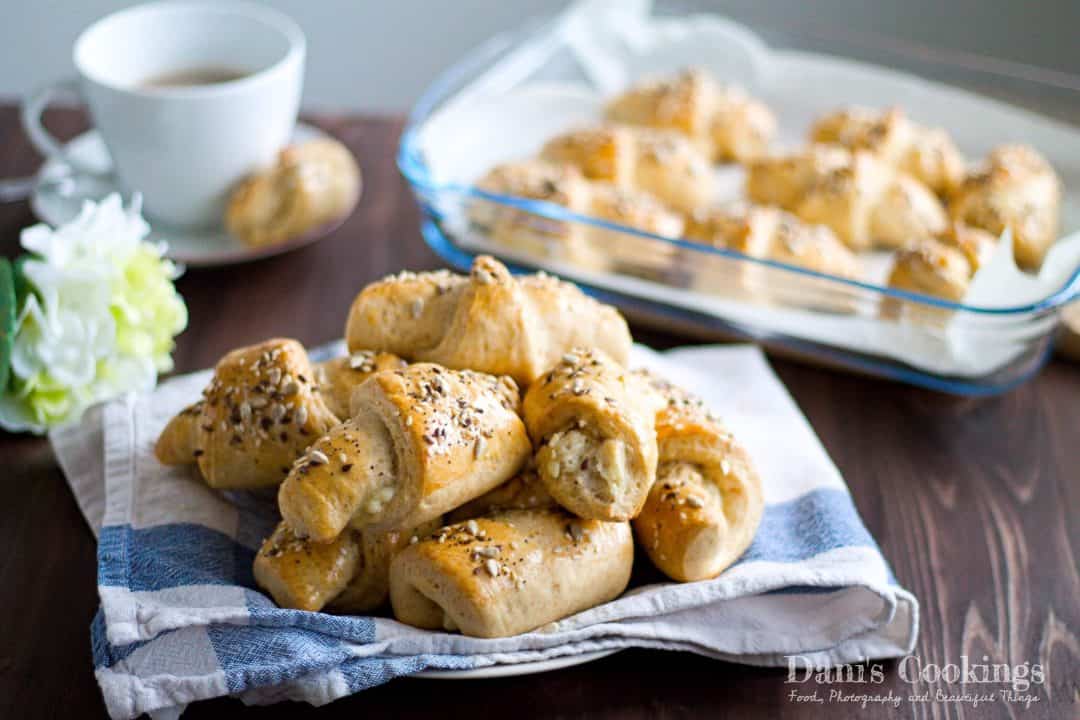 I couldn't wait for these babies to get baked in order to try them. And indeed my crescent rolls with feta and parmesan became really nice!

The recipe contains very little oil and no butter. As a result these crescent rolls are not heavy at all but they are so tasty! And the feta cheese in the dough enhances the taste of the filling in a very nice way.
These crescents are soft, delicious, and good also for kids. They are the best morning breakfast or afternoon snack for the days when you are not into sweets!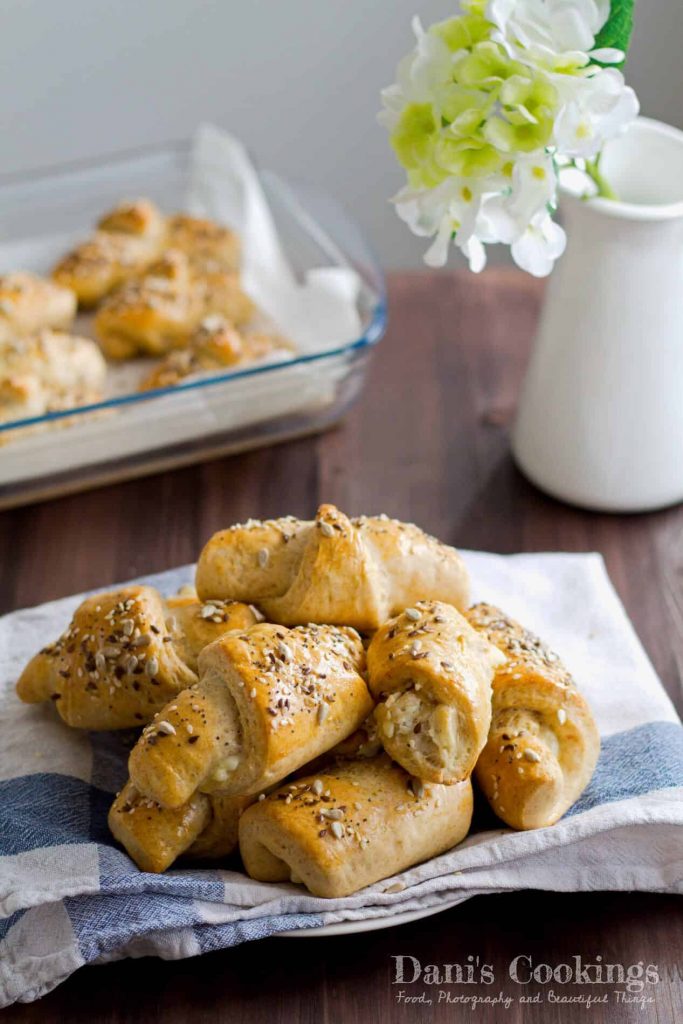 Feta and parmesan crescent rolls
Ingredients
For the dough:
150

g

whole grain spelt flour

350

g

all purpose flour

10

g

dry yeast

180

ml

warm milk

2

eggs

1

teaspoon

sugar

1

teaspoon

salt

60

ml

olive oil

100

g

feta cheese

,

crumbled
For filling and topping:
150

g

feta cheese

,

crumbled

60

g

parmesan

,

grated

2

eggs

mixed seeds to sprinkle on top
Instructions
Dough:
In a cup combine sugar, dry yeast and warm milk. Mix until the yeast is almost dissolved.

In a large bowl combine the two types of flour and make a well. Crack the eggs in the centre of the well, then add salt, olive oil and yeast mixture. Slowly stir the wet ingredients in the center, mixing them gradually with the flour. Continue mixing until a soft dough is formed. When the dough becomes homogeneous, cover it with a humid towel and let it sit in the bowl for about 1/2 hour at room temperature.
Filling:
In a medium bowl beat one egg. Add parmesan and feta and mix until well combined.
Roll out and bake:
Preheat oven to 200 degrees C. Line 2 large baking pans with parchment paper.

Divide the dough in 3 parts and knead in each one about 33 g of crumbled feta cheese. Form each part into a ball and then roll it into a circle using a rolling pin.

Cut each circle into 8 triangles. Using a teaspoon place a bit of the cheese filling in the centre of the wide end of each triangle. Roll the triangles into crescents, starting from the wide end where the filling is.

Place the crescents into the prepared pans and let them sit for another 20 minutes.

Brush the crescent rolls with beaten egg and sprinkle them with mixed seeds. Bake for 20 minutes or until puffed and golden brown.
Notes
The easiest and the cleanest way to roll out dough is between two sheets of parchment paper, lightly floured.