Delicious and crispy cannoli made the easy way and without a lot of fat? Yes, that is possible if you bake them in an Air Fryer!
This wonderful recipe is perfect for those of you who love the famous Italian cookies but hate the idea of dip frying. Read on to find out how to make perfect Air Fryer cannoli with Ricotta Filling at home!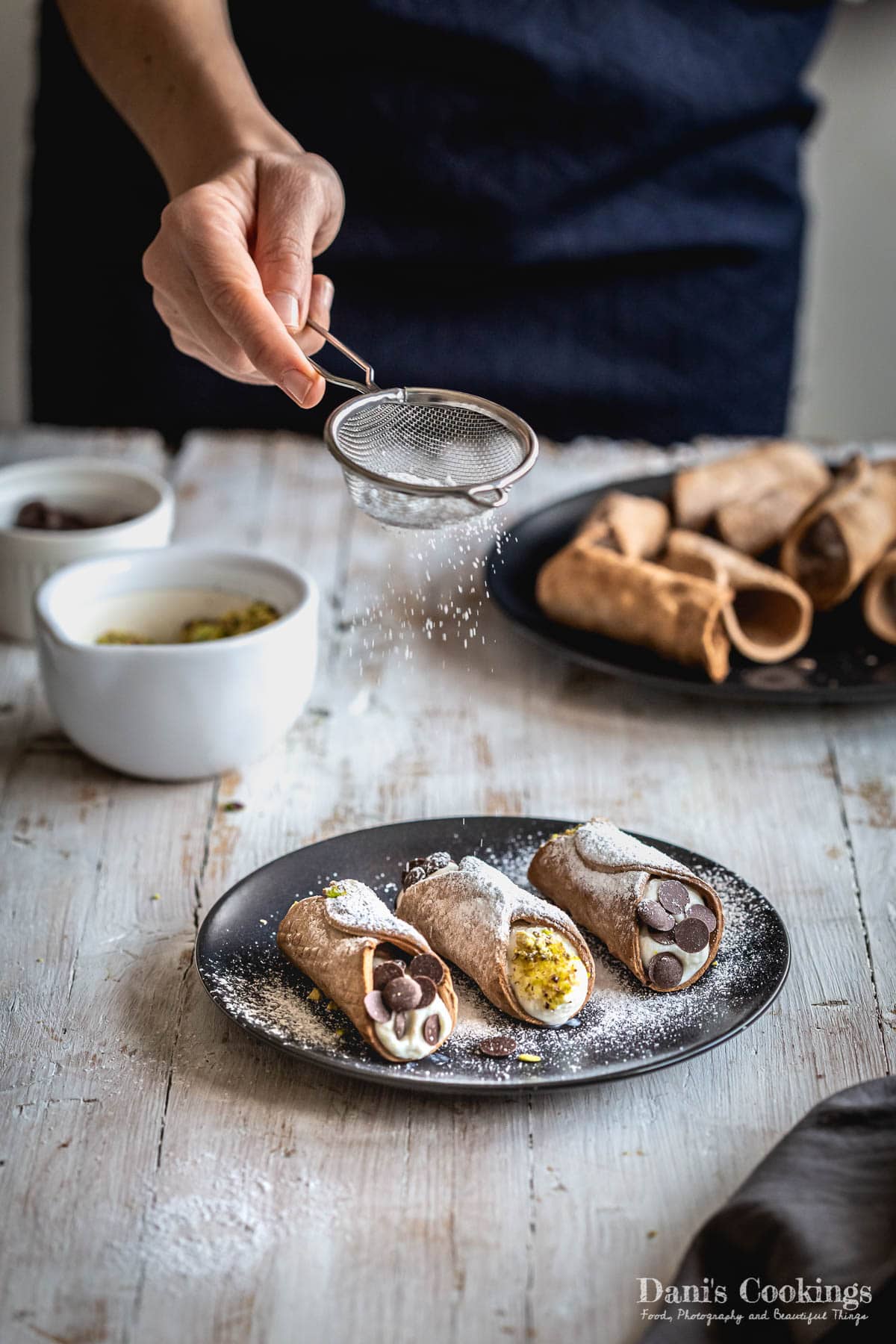 Why is this recipe good
I've always wanted to make cannoli but I am not comfortable with frying in a lot of oil. That's why I have delayed for ages making them.
But the air fryer was the best solution for my frying phobia! Baked in this wonderful oven, cannoli become crispy and tasty, just as the fried ones, but with much less fat. I am so happy with this recipe and you surely would love it if you try it out!
What ingredients you need
The dough requires just few simple ingredients: all-purpose flour, butter, salt, sugar, cocoa powder, egg, vinegar, marsala wine (or another liquor to add some flavour) and a bit of water to make the dough.
For the frosting and decoration you need ricotta, powdered sugar, ground pistachio and chocolate chips.
You will find the complete list of ingredients with their quantities below the post, in the recipe card.
Preparation tips
The hardest part of making cannoli is to roll the dough very thinly: about 1/12-1/10 inch or 2-2,5 mm. I used my pasta machine for this. You can, of course, do it by hand, with a rolling pin, it would just take you a bit more time.
The frying temperature for the cannoli is 400º F/ 200º C The frying time depends on the thickness of the dough and on your air fryer. Start with 5 minutes and increase to 7-8, if you find them not perfectly golden. In my Philips Air Fryer the ideal frying time is 6-7 minutes.
Filling & Decoration
The filling of this cannoli is just ricotta mixed with powdered sugar. It is simple and at the same time incredibly delicious in combination with the cannoli shells.
To make the taste and texture of the cannoli even better, sprinkle chocolate chips and ground pistachio on every side. With them every bite would be like a small explosion of tastes in your mouth!
Storing
You can store the filled cannoli in airtight containers for 2-3 days. Keep in mind that with the filling inside, they would loose their crispiness after the first day.
If you want to make them ahead and keep them perfectly crispy, store the cooled shells in airtight containers for up to a week. It is best if you prepare the filling right before serving. In any case it would keep in the fridge for 2-3 days.
Freezing
Can you freeze cannoli? Certainly but I don't recommend you doing it after filling them. You can freeze separately the cannoli shells (in ziplock bags) and the ricotta filling (in airtight container) for up to 3 months.
I am so excited with this recipe and I hope you will love it as well! Let me know in the comments what you think about it. If you made it, please share your experience!
Here are few more recipes using ricotta cheese that you might like:
Air Fryer Cannoli
Ingredients
For the cannoli Shells:
2 cups/ 240 g

all-purpose flour

2 tablespoon/ 25 g

butter

½

teaspoon

salt

2 tablespoon/ 30 g

sugar

1

tablespoon

cocoa powder

1

egg

2

tablespoon

marsala wine

,

see notes

½

tablespoon

vinegar

3

tablespoon

water

3

tablespoon

olive oil
For filling and topping:
2 cups/ 500 g

ricotta

1 cup/ 120 g

icing sugar

,

+ more for sprinkling

¼ cup/ 30 g

ground pistachio

⅓ cup/ 30 g

chocolate chips
Instructions
Cannoli Shells:
In a bowl combine flour, sugar, salt and cocoa and mix well. Add butter and make crumbs with your hands. Add the rest of the ingredients and make a dough: it shouldn't be very soft.

Leave the dough covered for 2 hours in the fridge.

Roll the dough about 1/ 12-1/10 inch thin /2-2,5 mm. Cut out 4-inch/ 10 cm circles from it.

Roll every circle around a cannoli mould. Use water to seal the opposite sides together.

Grease the cannoli with oil and fry them for 5-7 minutes at 200ºC/ 400º F in Air Fryer.
Filling:
Whip the ricotta with the icing sugar.

Fill the cannoli, using a piping bag: pipe from both sides, until the shells are filled.

Sprinkle ground pistachio and chocolate chips at the sides.

Sprinkle the cannoli with icing sugar on top.
Notes
Marsala wine can be substituted by other flavourful liquor or by vanilla or rum extract if you prefer these cannoli to be alcohol-free.
Rolling the dough: if you have pasta machine, it can be helpful to roll the dough to the desired thickness. Otherwise you can use just a rolling pin which is still ok but might take a bit longer time.
The frying time would vary depending on your air fryer model. I used Philips air fryer and it took me 6-7 minutes. You may want to test with the first cannoli starting at 5 minutes and increasing accordingly.
Store the filled cannoli 2-3 days in airtight containers in the fridge. Beware that they would loose their crispness after the first day.
You can also make the shells ahead and store them in dry airtight containers at room temperature for up to a week.