When you are bored, sad or unsure of something, the answer is simple: Chocolate Cake! Of course, homemade is the best! Even if you have never baked a cake before, this Easy Chocolate Cake Recipe will not challenge you.
Why bake this Chocolate Cake
It is moist and with intense chocolate taste. It has an amazingly tasty frosting. Last but not least, this is the easiest four layer chocolate cake recipe that you can imagine. Also the time for preparation is minimal.
How to make the cake layers
The mixing method of the cake layers is very simple. It is just combining all the dry ingredients in one bowl, combining the wet ones in another bowl and then pouring them into the dry ones, while mixing with a hand whisk. No mixer required, no need to cream butter or to beat eggs for a long time. Simple and easy method with a fantastic result!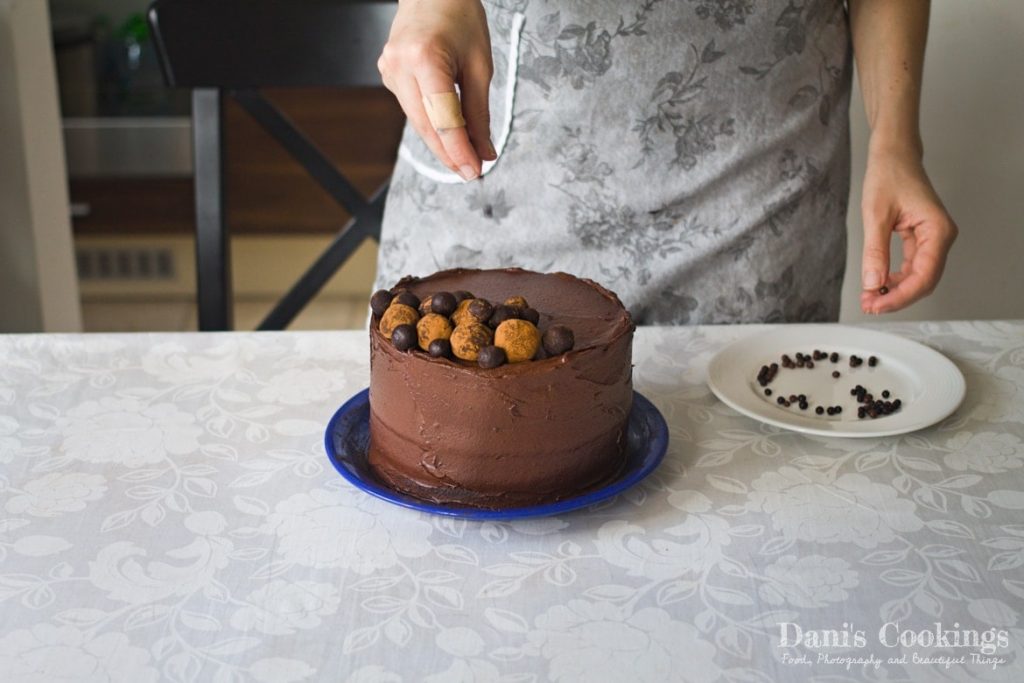 How to make the frosting
The frosting is a pure deliciousness! It was inspired and adapted from the Hummingbird Bakery Cookbooк. It is unbelievably easy: just combine the dry ingredients together with the soft butter in a large bowl and then gradually add milk, while beating with an electric mixer. At the end some melted chocolate is added for a perfect velvety chocolate finish!
Do you need any special ingredients for that cake
The ingredients are very common and easy to find in all supermarkets. You might even have them already in your home. The only ingredient that you probably don't buy all the time is buttermilk. But if you don't have it at the moment, don't worry! You can substitute it by milk and a tablespoon of vinegar.
Keep in mind that for a perfect taste of the cake you need to use quality ingredients, especially good cocoa powder and fine chocolate.
If you are a big chocolate lover like me, I have collected few more interesting recipes for you:
Dreamy Chocolate Layer Cake with Chocolate Truffles
The Best Vegan Chocolate Cake
Easy double chocolate cake
Double Chocolate Cookies with Cheesecake Filling
No Bake Chocolate Fudge Cake
If you made the current recipe, I will be very happy to receive your feedback! It is a great recipe for beginners bakers. If you are new to baking or still unsure in the kitchen, or simply want to get better with layer cakes, I have good news for you: my first online baking class is now live! And it is showing how I make this cake from scratch, including ingredients and tools! The course is on Skillshare and if you want to take it, there are even better news: with the link below you get 14 days free trial for Skillshare Premium where you can take unlimited classes from hundreds of teachers for the given time!
Just click on the photo below and use the link!
Easy Chocolate Cake Recipe
Ingredients
For the Cake Base:
2 ⅓ cups/ 270 g

all purpose flour

,

sifted

1 cup/ 100 g

cocoa powder

1 ½ cups/ 300 g

brown sugar

1

teaspoon

baking soda

1

teaspoon

baking powder

⅞ cup/ 200 ml

buttermilk

½ cup/ 120 ml

coffee or water

⅓ cup+ 1 tbs / 80 ml

olive oil

2

eggs

2

teaspoons

vanilla extract

½

teaspoon

ground cinnamon,

optional
For the Frosting:
⅔ cup/ 135 g

butter

,

very soft

3 ⅔ cups/ 400 g

cups

powdered sugar

⅞ cup/ 85 g

cocoa powder

½ cup+ 1 tbs/ 150 ml

milk

3,5 oz/ 100 g

dark chocolate,

melted

1

teaspoon

vanilla extract
For Decoration:
2

tbs

of the frosting

2

tbs

carob powder

1

tbs

pumpkin seeds powder

chocolate sprinkles
Instructions
Cake Base:
Preheat oven to 180 degrees C (350 degrees F). Line two 18 cm (7 inch) cake pans with circles of baking paper. Grease very well inside the pans.

In a large mixing bowl combine sifted flour, sifted cocoa powder, baking soda, baking powder, cinnamon (optional) and sugar. Mix with a hand whisk to blend the ingredients.

In a separate bowl combine eggs, vanilla extract, olive oil and buttermilk. Whisk well until the mixture becomes smooth and uniform.

Pour the wet ingredients into the dry ones. Whisk gently, until combined.

At the end gradually pour the coffee (or water). Continue whisking carefully, until smooth. The batter should not be thick, neither too thin. If you see that the water is too much and will make the batter liquid, don't use the whole quantity.

Transfer the batter into the prepared pans dividing it in relatively equal parts.

Bake for 40-50 minutes or until a toothpick inserted in the centre of each cake comes out clean.

Let the cakes cool for 5-10 minutes and then remove them from the pans: carefully run a knife around the edges, then hold the pan with kitchen gloves and invert on top of a wire rack or wooden board.
Frosting:
In a large mixing bowl combine butter, powdered sugar and cocoa powder. Mix them with a rubber spatula. Add vanilla extract and then start pouring the milk little by little, while beating with an electric mixer at low speed. When the milk is absorbed and the mixture becomes relatively smooth, turn the mixer to the highest speed and beat for 2-3 minutes or until fluffy.

Little by little add the melted chocolate. Continue beating with the mixer at high speed until the frosting becomes creamy and uniform.
Assembling:
Using a long serrated knife cut each cake horizontally into two equal layers. Place one layer on a serving plate and cover it generously with some frosting. Place another layer. Continue the process until you use all the layers. Leave about ⅓ of the frosting to cover the top and the sides + about 2 tbs for decoration.
Decoration:
You can decorate the cake as you like. I made truffles by mixing some frosting with carob powder and pumpkin seeds powder. Part of the truffles are covered with carob powder. Added some chocolate ball sprinkles as well.

Other decoration ideas: chocolate shaves, chocolate candies, chocolate sprinkles, cocoa nibs, piped frosting
Notes
If you don't have buttermilk, use the same quantity of milk with 1 tbs vinegar.
You can use up to 20 cm (8 inch) cake pans for the same quantity of ingredients, just beware that the cake will have slightly lower height. For a 21-23 cm (8,5 -9 inch) cake pan, increase the ingredients with about 50%. Double the ingredients for a cake pan 24-26 cm (9,5-10 inch).
The frosting recipe is adapted from Hummingbird Bakery Cookbooк.