A perfect sweet and sour combination of rhubarb, spelt and almond layer and tasty coconut sugar: this Healthy Rhubarb Cake is not only delicious but also easy to make and very satisfying!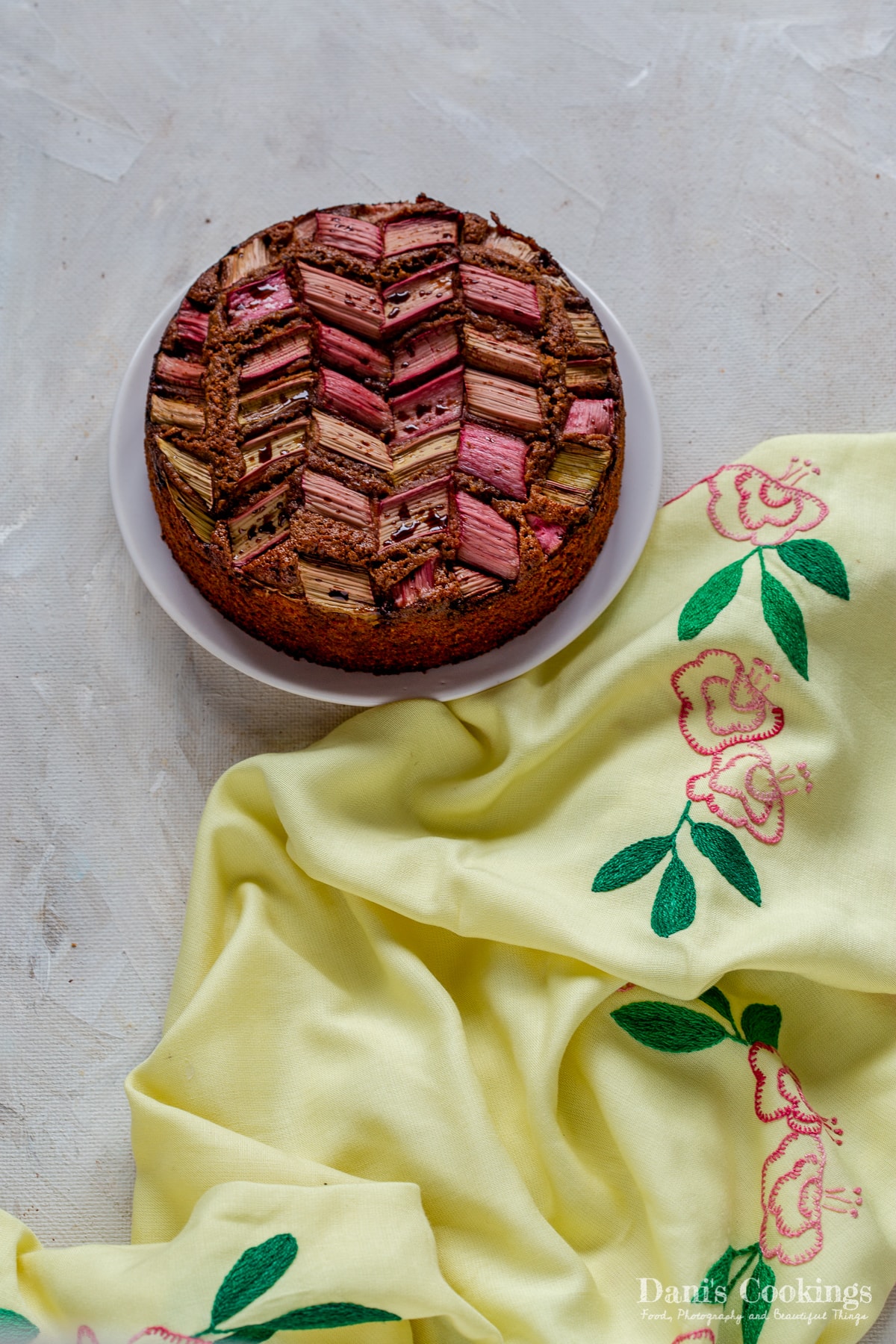 Why make this recipe
Rhubarb brings the desserts to another level. The taste of this vegetable (yes, it's a veggie!) is rather sour but also quite interesting. Combining it with sugar and other flavours like vanilla, cinnamon and nutmeg makes it a real star on the table.
The current cake is healthier than most desserts as it doesn't contain refined ingredients. It is also incredibly easy to make and it is very soft and delicious. The perfect baking recipe, even if you never used rhubarb in your kitchen before.
What ingredients you need
Below are the main ingredients for the recipe. You will find their quantities in the recipe card, under the post:
rhubarb stalks
whole grain spelt flour
coconut sugar
raw almonds
eggs
sour cream
olive oil
cinnamon
nutmeg
vanilla
baking powder
Preparation summary
To make the cake, first you need to blend together the almonds with the coconut sugar. If you can't reach a very fine consistency, this is ok.
The second step is to combine all the dry ingredients in a large bowl. Then you need to start adding the wet ones one by one. When you make a batter, fold in some chopped rhubarb.
Transfer the batter to a greased cake pan lined with parchment paper. And now the fun begins!
Chop the rest of the rhubarb into 2,5 inch pieces, cutting them diagonally so they become diamond-shaped. All pieces should be same lenght.
Arrange the rhubarb pieces on top of the batter into patterns or geometric shapes: use your fantasy!
You need to bake the cake at 350º F/ 180º C for about an hour or even more, until a toothpick inserted in the centre comes out clean. The rhubarb will make it more challenging for the top to get baked so you may need to switch to top baking only at the end.
Tips & Advices
When you cook or bake with rhubarb, please make sure you remove all the leaves! They contain high levels of oxalic acid which is toxic.
Rhubarb has a quite acid taste, which might seem peculiar if it's your first time trying it. However the sourness creates a wonderful contrast with the sweet batter and the spices added to it.
If you don't have rhubarb or don't like it, you can make the same cake with fruits instead: strawberries, blueberries, pears or apples: they would all go perfectly well with the delicious cake base!
I would be really happy if you share your feedback about this recipe. If you have made it, please let me know how it went!
Here are few more healthy cake recipes with fruits that you might like too:
Healthy Rhubarb Cake
Ingredients
1 ⅔ cup/ 180 g

whole grain spelt flour

¾ cup/ 150 g

coconut sugar + 2 tablespoon for the rhubarb

⅓ cup/ 150 g

raw almonds

2

teaspoon

baking powder

2

teaspoon

vanilla extract

2

medium eggs

1 cup/ 240 g

sour cream

½

teaspoon

ground cinnamon

⅓

teaspoon

ground nutmeg

⅓ cup/ 80 ml

olive oil

4 – 5

rhubarb stalks
Instructions
Preheat the oven to 350º F/ 180º C. Adjust the oven rack to the middle position. Line a 7 inch/ 18 cm spring form or cake pan with a circle of parchment paper.

Chop about 1 large or 1,5 medium rhubarb stalks. Place them in a bowl together with 1 tablespoon coconut sugar and 1 tablespoon from the spelt flour. Mix very well and set aside.

Place the almonds and ¾ cup/ 150 g coconut sugar in a food processor. Blend until the mixture resembles fine sand or powder (depending on how powerful is the processor).

Transfer the mixture to a large mixing bowl. Add the spelt flour, baking powder, cinnamon and nutmeg. Whisk very well to combine.

Gradually add the eggs, vanilla, sour cream and the olive oil. Whisk gently, until absorbed.

At the end mix in the chopped rhubarb

Pour the batter into the prepared pan.

Chop the rest of the rhubarb into 2 inch pieces by cutting the stalks diagonally. Arrange them in geometric patterns on top of the cake. Sprinkle with the last tablespoon coconut sugar.

Bake the cake for about 1 hour or until a toothpick inserted in the centre comes out clean. You may (or may not) need to switch the oven to top baking only in the last 10 minutes, if you see that the rhubarb is preventing the top to bake completely.

Let the cake cool for 30 minutes before serving it.
Notes
Keep this cake in airtight container in the fridge for 2-3 days.
No rhubarb – no problem! You can make this cake with strawberries, apples, pears or other fruits you like.