I am really happy to write the first post in my renewed blog daniscookings.com. This is something that I have been dreaming about for a long time until finally I decided to take the challenge and to make it happen. In the past month I have been working hard on the new site set up and design and I am quite proud with the result. I learned new things about WordPress plugins, shortcodes and how to create a website without coding. Of course I found lots of challenges but so far they are overcome. And I even managed to create a better notification email for the subscribers, with pictures and everything!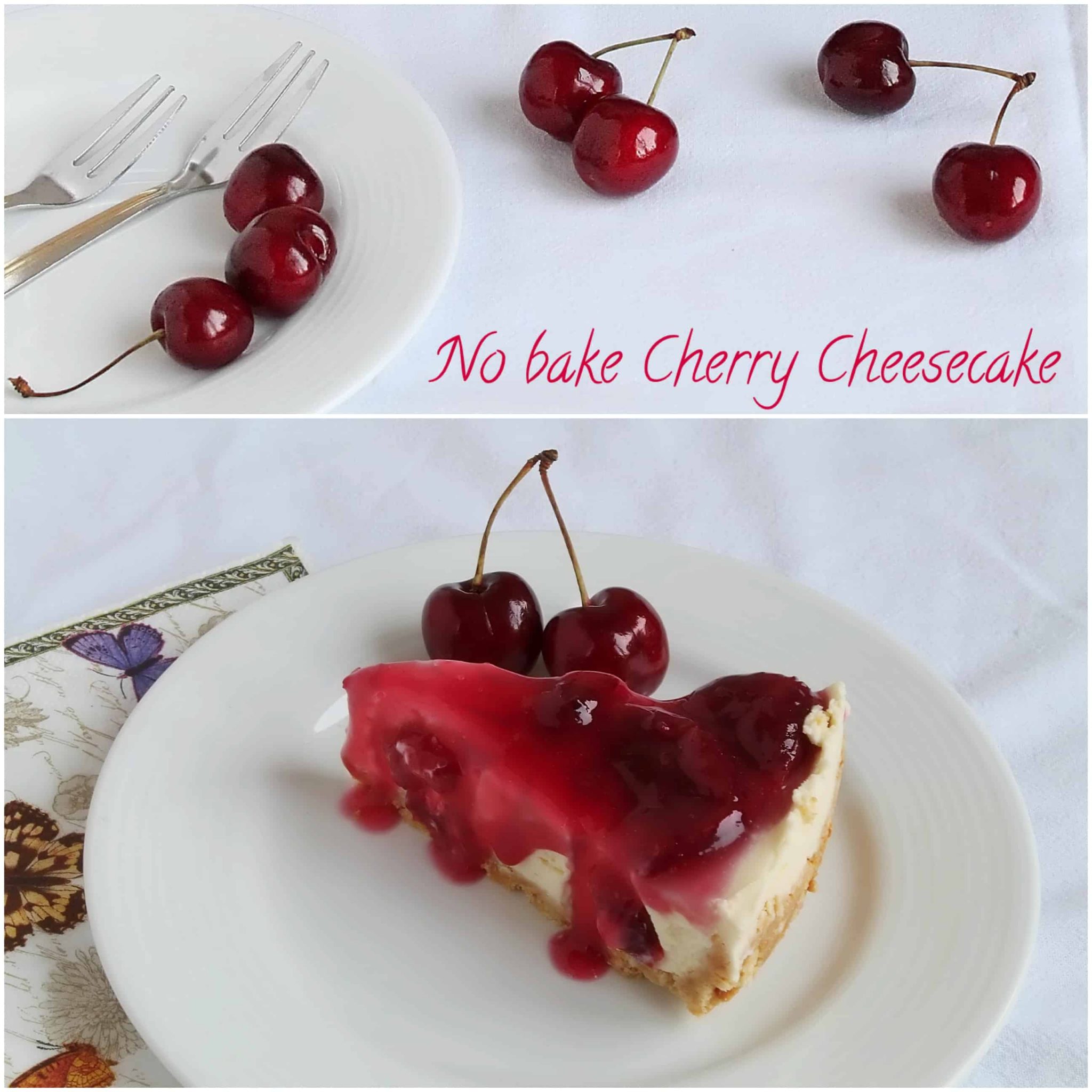 The new site has a brand new series: Interviews. In these series I am going to present you interesting people and bloggers who could talk about food and share a recipe. You will be able to read the first interview next week: I can't wait!
What kind of cheesecake is that
I wanted to start the renewed blog with something sweet, decadent and still refreshing because it's summer. So I decided to make a no bake cherry cheesecake. I can give you at least 3 reasons why this is the perfect dessert:
I don't know anyone who dislikes cherries;
I haven't met yet a person who doesn't like cheesecake;
The no bake cheesecake is a quick dessert with a guaranteed result (baking is always a challenge when you make a cheesecakes).
The recipe is very easy. The cheesecake is made with mascarpone, cream cheese and white chocolate is used as a stabiliser. Did you know that you can use chocolate instead of gelatine for cheesecakes? If you are interested in this technique, you may also like these other cheesecake recipes where it is used too:
Chocolate Banana Mascarpone Cheesecake
I would say that the most uneasy part of this cheesecake was to pit and cut the cherries. But once this is done it takes very little before the cheesecake goes to the fridge.
The pictures of this dessert turned out good as well, especially considering the conditions in which they were shot: at 7 am on Saturday, under the disapproving glance of my son who just had had his breakfast. During the whole session he didn't figure out quite well what his mom was doing at the table. The reason was my improvised reflector situated like a fence between him and the objects that I was shooting (I made this reflector by myself, it is handy and I like using it even though I also own a "real" one).
I explained to my son that I was taking pictures of a "cake" and he didn't stop repeating "cake, cake" during the whole time, even if he didn't manage to see it for more than a few seconds… Afterwards as an apology I gave him to try a little piece of the cheesecake but he didn't approve it. This, however, wasn't surprising for me because similarly to his father, he prefers meat. I guess there is a little chance for him to become a vegan some day ☺
No Bake Cherry Cheesecake
Ingredients
For the topping:
1 cup / 250

g

cherries

,

pitted and halved

4

tbsp

sugar

2

tbsp

water

1

tsp

vanilla extract

1,5

tbsp

plain cornstarch
For the crust:
5 oz/ 150

g

graham crackers

,

(about 10) or vanilla waffers or petit beurre cookies

½ cup / 80

g

butter

,

melted
Instructions
Topping:
In a saucepan over medium heat combine cherries and sugar. Stir gently until the mixture starts bubbling. Lower the heat and cover the pan with a lid. Let the cherries simmer for about 10 minutes. Mix the cornstarch with the water and add to the pan. Stir continuously with a spoon until the topping starts getting thicker. Remove the pan from the heat and let cool.
Crust:
Crush the cookies into fine crumbs in a food processor or with a rolling pin in a plastic bag. Mix them well with the melted butter. Press the crust to the bottom of a 8-9 inch (20-22 cm) spring form pan. Leave the pan in the fridge while preparing the filling.
Filling:
Combine the cream cheese and the mascarpone and beat with a mixer until smooth. Melt the chocolate in a bowl over a pan with a simmering water. Add the chocolate to the cheese mix and stir until the filling becomes homogeneous. Spread it onto the prepared crust. Leave the cheesecake in the fridge for 30-60 minutes before topping it.

Refrigerate the cheesecake about 4 to 6 hours before serving.
Notes
Keep the cheesecake in the fridge for 2-3 days