Who doesn't love easy and delicious no bake desserts? The kind of desserts that are made in less than 30 minutes and then converted in the fridge into something heavenly?… That's exactly what this No Bake Lemon Mousse cake is!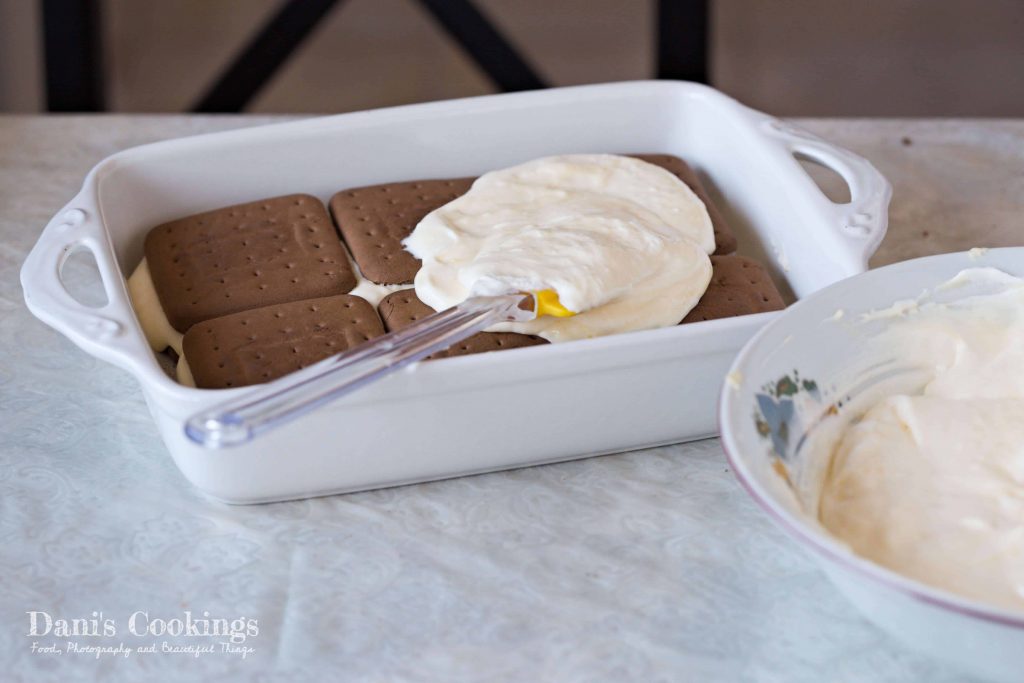 How did I come up with this dessert
Ice Box cakes (or cakes made with soaked cookies or crackers) are many people's favourites, so I am not an exception. Recently I was craving such type of cake for some time but I was interested in a new flavour. I wanted to find a new way to express my gluttony into a combination of cookies and frosting but I didn't have an idea how. The truth is that sometimes it is not so easy for me to figure out what exactly I would like to eat at the moment. But then I had the perfect excuse to prepare such cake and I suddenly made my mind about the taste combination.

The occasion was the Angel Food Cake which I had baked the previous day. Thanks to this fantastic dessert I had in my fridge a good number of egg yolks. I needed to use them somehow as just trowing them away would have been a stupidity. So it came to my mind to make a lemon curd. Then I though this lemon curd could be converted easily into a lemon mousse which would go fantastic with plain chocolate or cocoa cookies! And so I had already the recipe in my mind.
How does this cake taste like
I normally don't like very much the combination of lemon and chocolate but in this cake it feels really nice. None of both tastes is too strong so they compliment each other in a wonderful way. The lemon mousse is fluffy and rich and it is exactly the component that makes the cake feel not only delicious but somehow special.
What kind of cookies to use for this recipe
Go with chocolate wafers or chocolate graham crackers. You can also use any kind of plain cocoa cookies. The best would be if they are rectangular but if you only happen to have round cookies, break them into small pieces. That way you will manage to build the cookie layers without leaving holes inside them.

Do you want to know a secret? I ate the biggest part of this cake completely on my own! I gave away two pieces to my mom and my better half ate one… The rest was devoured by me, which didn't make me proud nor satisfied with my body shape but that's what happens when you have something too delicious in the fridge 🙂
Do you want to see more of my ice box cake recipes? Check out the below selection:
Easy Icebox Cake with Dulce de Leche
No Bake Cookie Cake with Lemon Mousse
Ingredients
¾ cup/ 150

g

sugar

Juice and zest from 1 large lemon

,

not treated

6

egg yolks

12,3 oz / 350

g

chocolate graham crackers or wafers

,

approximately

1 cup/ 250

g

mascarpone

⅞ cup / 200

g

heavy whipping cream

chocolate sprinkles
Instructions
In a small saucepan over medium heat combine lemon juice, lemon zest, sugar and egg yolks. Stir constantly with a wooden spoon. The mixture should start simmering and thickening. When it thickens to the point of the spoon remaining coated when raised, remove the pan from heat.

Let cool until room temperature, whisking from time to time. You can leave the lemon curd in the fridge and make the cake on the next day.

In a large bowl beat together lemon curd and mascarpone until well combined.

In a separate bowl whip the heavy cream until thick. Using a rubber spatula carefully fold the cream into the mascarpone and lemon mixture, until the mousse becomes uniform.

Arrange a layer of cookies in a rectangular cake pan (8 x 9 inch / 20 x 23 cm or similar). Alternatively you can use a round pan and break the cookies in small pieces before spreading them. Cover generously and evenly with lemon mousse. Continue the process until using all biscuits and all the lemon mousse.

Wrap the pan with cling film and transfer it to the fridge. Refrigerate for at least 6-8 hours.

Before serving decorate with chocolate sprinkles.