If you love decadent brownies, this recipe will surely impress you! It is hard to believe they are made with no refined sugar, with only healthy ingredients and contain… pumpkin puree! Yes, the Ultimate Healthy Pumpkin Brownies are the perfect fall guilt-free treat for kids and their parents and are so easy to make!
Why is this recipe good
These brownies combine pumpkin spice flavoured batter with chocolate batter in the same pan. The combination is incredibly delicious, moist and flavourful. The texture of these brownies is fudgy and they just melt in your mouth! They are also very easy to make: no mixer required, just a whisk and two bowls. And the best is that you can eat them as a healthy breakfast or as a snack: they are packed with good nutrients!
What ingredients you need
In order to make this brownies you need high quality unrefined ingredients, such as: coconut sugar, whole grain spelt flour, flax seed meal, cocoa powder. You need also pumpkin puree, spices, eggs and dark chocolate chips to make this a real pumpkin pie spice chocolate dessert.
Find the full ingredient list with the exact quantities in the recipe card, below the post!
Why is this recipe healthy
The listed ingredients are rich in vitamins, minerals, fibre, antioxidants and other healthy nutrients. They make the brownies good for you, unlike many other similar sweet treats made with refined ingredients.
Can you use squash instead of pumpkin
You can easily use pureed squash instead of pumpkin and the taste will be perfect. In fact I always prefer to use butternut squash for all my pumpkin desserts as I like much more its taste and texture.
I am sure you would love these brownies when you try them! They are seriously one of the best desserts I have tried recently.
Please let me know in the comments if you tried this recipe! As usual, your feedback will be very appreciated.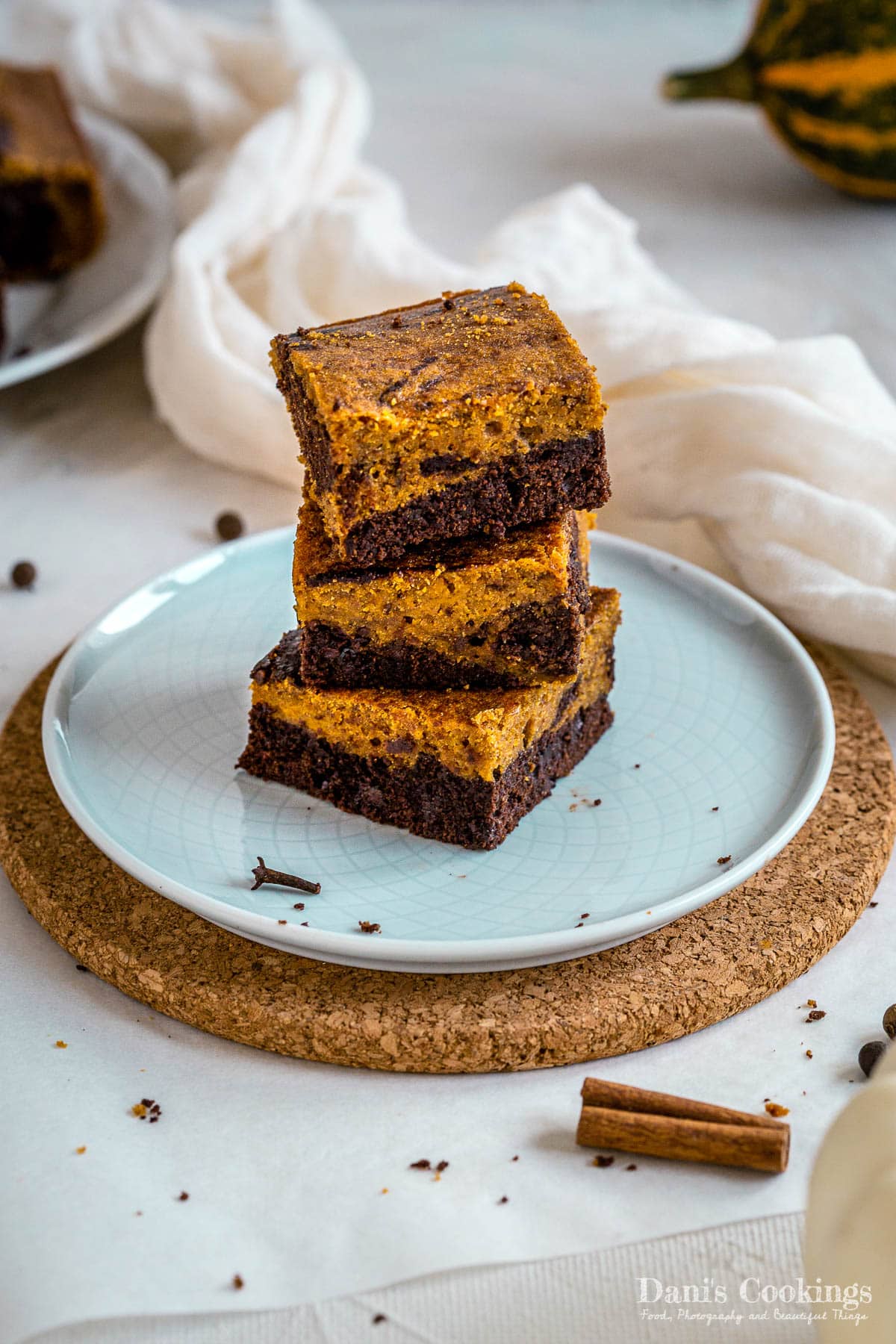 And if you want to check some other delicious pumpkin desserts, I've prepared you some recipes below:
Pumpkin Layer Cake with Mascarpone Frosting
Ultimate Healthy Pumpkin Brownies
Ingredients
1 ½ cups/ 180 g

whole grain spelt flour

,

see notes

⅔ cup / 140 g

butter

,

melted

3

eggs

1 cup/ 180 g

coconut sugar

¼ cup / 25 g

cocoa powder

⅓

teaspoon

salt

1

teaspoon

baking powder

½ cup/ 140 g

pumpkin puree

1

teaspoon

pumpkin pie spice

2

teaspoon

vanilla extract

1

teaspoon

flax seed meal

3

teaspoon

water

½ cup / 80 g

chocolate chips
Instructions
In a bowl combine spelt flour, salt and baking powder. Stir very well.

In a small cup combine the flax seed meal and the water. Mix well and set aside.

In a large bowl whisk together melted butter and coconut sugar until combined. Add eggs and vanilla and whisk until almost smooth. Gradually add the flour mixture and whisk gently with a wooden spoon or rubber spatula until absorbed.

Transfer about half of the batter to another bowl. Add to one part the pumpkin puree mixed with the pumpkin pie spices. Whisk very well to combine.

Add the cocoa powder and the soaked flax seed meal to the second part of the batter. Mix very well until combined. At the end add also the chocolate chips and whisk gently to distribute them evenly around the batter.

Preheat oven to 350 degrees F/ 180 degrees C. Grease very well a 9 x 7 inch/ 23 x 20 cm rectangular pan (8 x 8 inch works as well). Spread half of one batter into the pan and then spread another half on top. Repeat the process with the rest.

Bake for 35-40 minutes or until a toothpick inserted in the centre comes out clean or with few crumbs.
Notes
Instead of spelt flour these brownies will go well with einkorn flour or a mix of both.
Store the brownies in airtight container for 2-3 days. You can store them in the fridge if the weather is too hot.
The recipe was inspired by Lil Luna