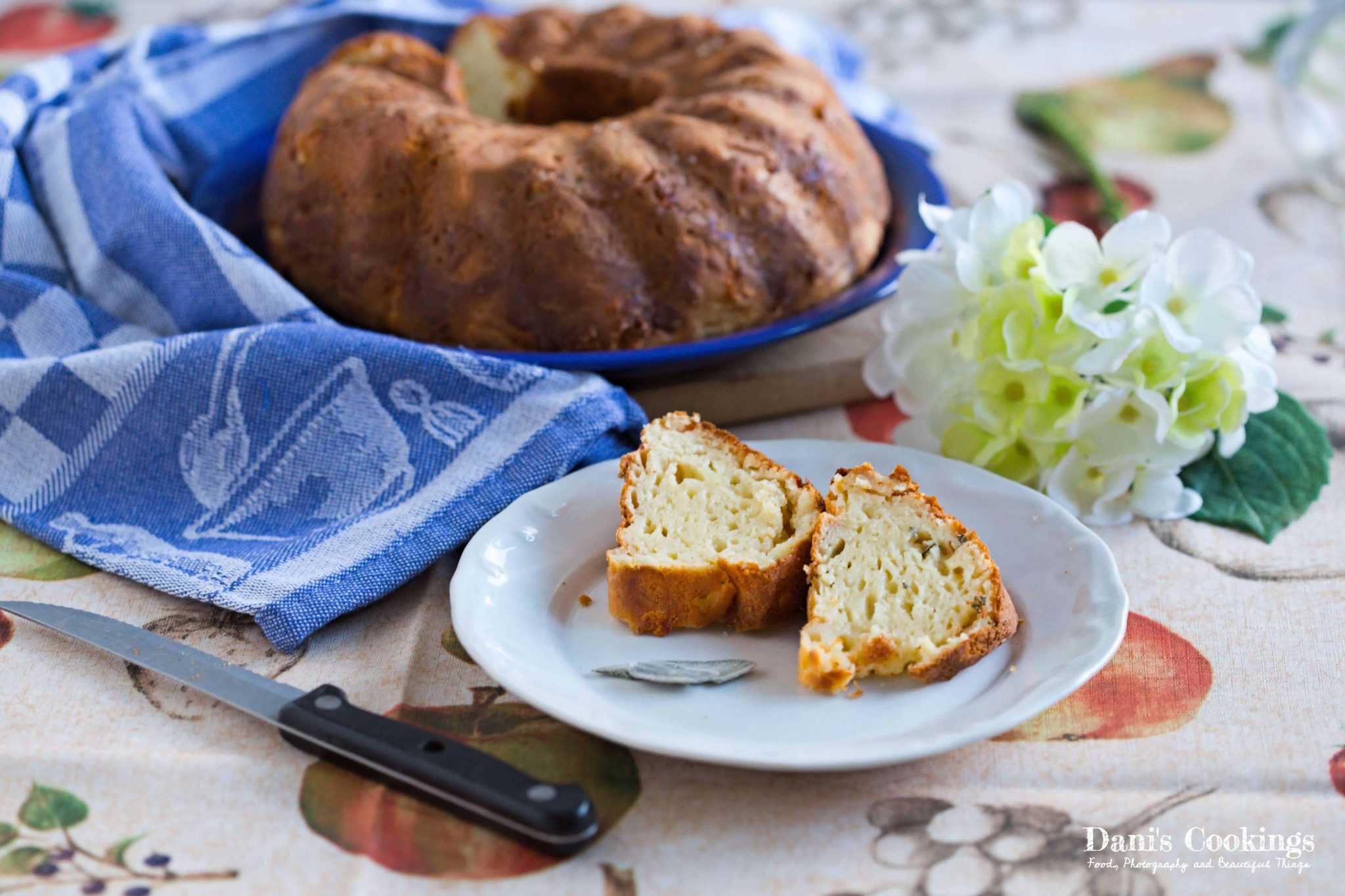 Do you use sage when you cook? I don't use it much even though I love that spice. It has a very peculiar taste which is even better when mixed with some melted butter. If you never tried it before, its flavour might even seem strange to you at first. But if you start using it more often you will realise that it gives a unique and wonderful flavour to certain dishes.

Few weeks ago I felt like eating a savoury cake. In fact I love savoury cakes, even if I am so much into sweets. I decided to bake it very suddenly one Sunday after realising that my son didn't want to sleep in the afternoon. I asked him if he wanted to eat something nice and savoury and he was quite enthusiastic with the idea. So I checked the products that I had in the fridge but there wasn't much: some cream cheese, greek yogurt and yellow cheese. I thought I could add some nice spice to make the cake even better… and that's how it came to my mind to use sage.

The sage leaves are very thick, grey-green and somehow fluffy. This is a very commonly used spice in the Italian cuisine (ravioli with sage and butter is one of my favourite pasta). It is rich in essential oils and is also used in herbal teas. I found out that I had a whole bunch in the freezer, not clear since when, but it looked very good. Freezing fresh sage is actually a great way to preserve it for months.

Baking cakes with little kids is not always an easy task. They might want to help you in a way that is not really helpful. They might ask you to do peculiar things (like to add cocoa powder to the savoury cake batter) and might throw a tantrum if you refuse them. My son is always very fascinated with the mixer in motion but loses interest after I finish that task. Eventually in the middle of the batter preparation he decided that he didn't want to watch any more so he left and went to play with his father. I managed to finish the cake almost in peace.

While I was taking photos of the baked cake and tasting it (well, it was great!), my son came back and even managed to steel one piece! Not only he shamelessly devoured the whole thing but he even tried to steel another one right from the scene that I was shooting!
Luckily I had already made enough photos and we could focus on eating the wonderful cake 🙂
Cream Cheese and Sage Breakfast Bundt Cake
Ingredients
200

g

all purpose flour

1,5

teaspoons

baking powder

150

g

yellow cheese

,

grated

200

g

cream cheese

3

eggs

150

g

greek yogurt

1

teaspoon

salt

50

ml

vegetable oil

5-6

fresh salvia leaves

,

chopped
Instructions
Preheat oven to 180 degrees C. Grease and flour very well a not too large bundt pan.

In a medium bowl combine all purpose flour, baking powder and salt. Stir to blend and set aside.

In a large mixing bowl beat the eggs with the mixer on high speed for 10 minutes. Add oil and beat again just for about a minute. Add yogurt and cream cheese and beat at a lower speed until smooth. Add the flour mixture and stir gently with a wooden spoon until absorbed. At the end add the grated yellow cheese and the salvia leaves and stir just until combined.

Transfer the batter into the prepared pan and bake for 30-40 minutes or until a toothpick inserted in the centre comes out with just a few crumbs. Let the cake cool 20-30 minutes. Remove it from the pan very carefully, after running a knife around its edges.