Are you up for some delicious cake with interesting taste combination? A cake that you can bake at any day and eat happily for any occasion (including the just to celebrate the simple fact that you love cakes).
This Peanut Butter Strawberry Jam Cake is a dessert – perfection! Fluffy peanut butter layers, light and tasty frosting and strawberry jam: doesn't that sound like the ideal cake!
Why is this recipe great
This cake is a wonderful combination of peanut butter layers, creamy frosting and strawberry jam. It follows the classic peanut butter & jam combination in an elegant twist. A wonderful dessert that you can make for any celebration or birthday party.


What ingredients you need
To make the cake layers you need mainly simple ingredients:
peanut butter
eggs
sour cream
honey
brown sugar
flour
baking powder
salt
vanilla
For the frosting and decoration you need:
strawberry jam: if you have fresh strawberries only, you can make a quick jam
white chocolate
sour cream
vanilla sugar or extract
ricotta
You will find the complete list and the required quantities in the recipe card below!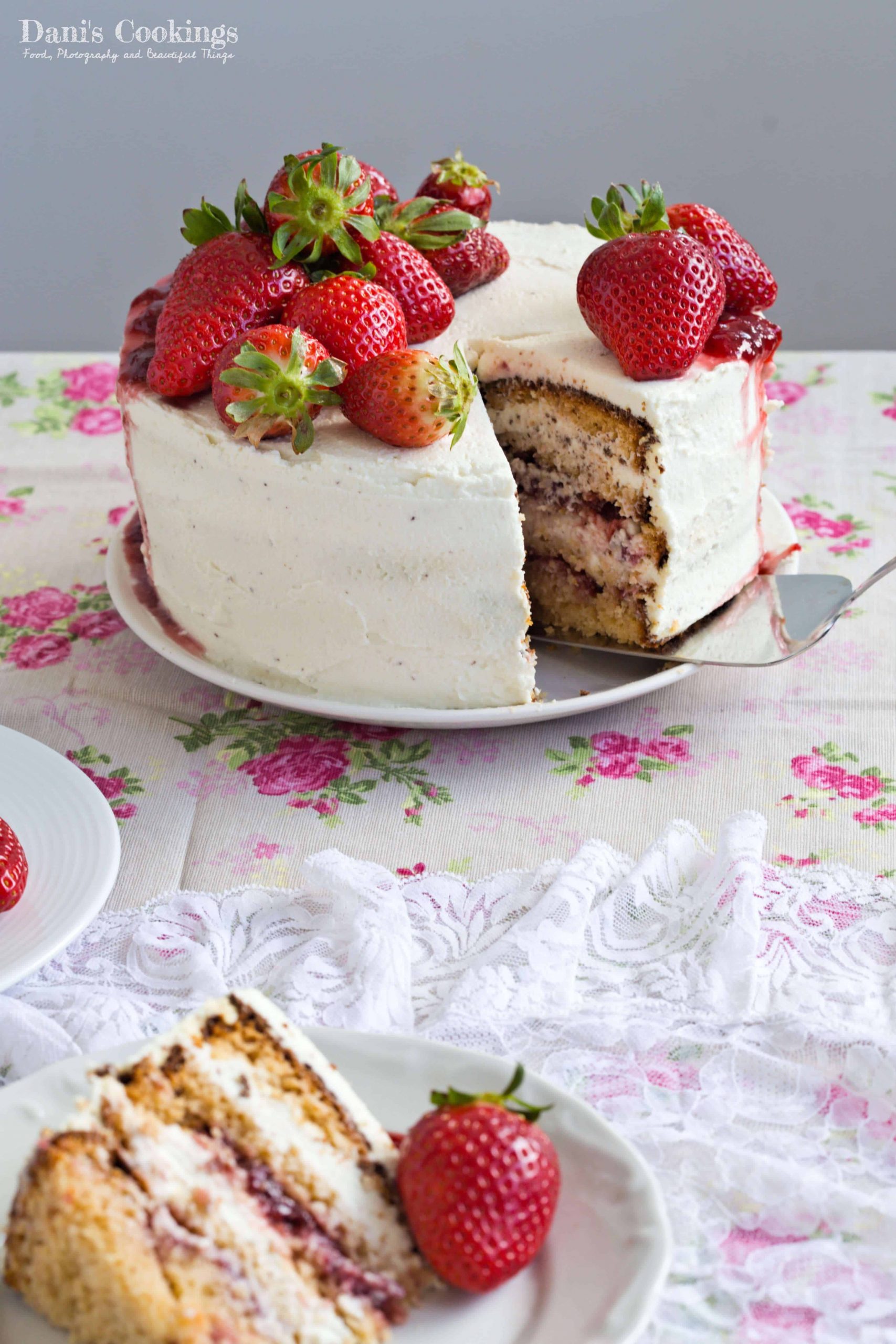 Preparation summary
This cake is pretty straight forward – I would even say easy. To make the layers you need to beat the eggs with the sugar and honey and then gradually add the rest of the wet ingredients. At the end mix in the dry ingredients.
You can bake the base in one 7 inch pan and cut it later into 4 layers. It is even better to use 2 pans as the baking would take less time.
After baking the layers and cooling them down, make the frosting. Whip the sour cream and ricotta and add the melted white chocolate with a rubber spatula.
More detailed instructions you will find below the post!

Decoration ideas
This cake is perfect decorated with strawberries. But if you make it out of their season, you can decorate it in a different way. Peanuts, candied strawberries, sprinkles… or why not mix some peanut butter with the frosting that remains at the end and pipe it on top? The possibilities are endless and the taste of that cake would be always great!
Storing
Keep the leftovers in airtight containers in the fridge. You can also freeze the slices in airtight containers for up to three months.
Can you make the layers ahead
Yes! You can bake the base, cool it down and freeze it, very well wrapped in plastic wrap. Then you can assemble it just one day before serving.
To thaw the base, simply transfer it from the freezer to the fridge the night before assembling the cake.
Did you like this recipe? Please share your opinion in the comments below!
Here are some more recipes for strawberry desserts:
Peanut Butter Strawberry Jam Cake
Ingredients
For the cake base:
½ cup/ 100

g

peanut butter

3

eggs

⅞ cup/ 200

g

sour cream

⅓ cup/ 100

g

liquid honey

½ cup/ 100

g

brown sugar

1 ⅔ cup/ 200

g

self-raising flour

,

see notes

½

teaspoon

baking powder

⅓

teaspoon

salt

2

teaspoons

vanilla extract
For the frosting:
1 cup/ 250

g

ricotta

1 ½ cup/ 350

g

sour cream

6 oz/ 170

g

white chocolate,

melted

1 pack/ 10 g/ 2 teaspoon

vanilla sugar

,

or 2 teaspoon vanilla extract

300 g/ 10,5 oz

jar

strawberry jam
Instructions
Cake Base:
Preheat oven to 180 degrees C (350 degrees F). Line a 17-18 cm cake pan with a circle of baking paper. Grease well the pan on top of the paper and on the sides.

In a bowl combine flour, baking powder and salt and stir.

In a large bowl using an electric mixer beat the eggs together with honey and sugar for about 10 minutes at high speed, until the mixture becomes thick and significantly increases its volume. Add sour cream, vanilla and peanut butter and beat until smooth. Add the dry ingredients and carefully stir them with a rubber spatula or a wooden spoon, until absorbed.

Transfer the batter to the prepared pan. Bake for 40-50 minutes or until a wooden skewer inserted in the centre comes out clean. Let the cake cool until room temperature before assembling it.
Frosting:
In large mixing bowl combine ricotta, sour cream and vanilla sugar. Beat with the mixer at high speed until fluffy. Using a rubber spatula carefully fold in the white chocolate until absorbed.

Refrigerate the frosting for ½ to 1 hour before assembling the cake.
To assemble:
Cut the cake horizontally into 4 layers. The layers will be very thin so they might break but this is fine. Place one layer on top of a serving plate. If you have 4 layers, spread a bit less than half of the strawberry jam on top. If your layers are 5, spread some of the frosting. Continue placing more layers and alternating the frosting and the strawberry jam. Frost the cake all around with the remaining frosting.

Decorate the cake as desired. Some ideas: fresh strawberries, jam, peanut butter, piped frosting, chocolate sprinkles, candied strawberries.
Notes
Instead of self raising flour you can use all purpose flour and 2,5 teaspoons baking powder in total.
If you don't have strawberry jam, make a quick jam of fresh or frozen strawberries. Use 2 cups / 250 g of chopped strawberries and ½ cup / 100 g sugar. Cook them for 10-15 minutes until the jam thickens. Optionally use a food processor to puree the jam until smooth.