Eating a crumble is like enjoying a warm cookie dipped in hot sweet and sour sauce with delicious fruit pieces. I discovered this incredibly nice dessert only few weeks ago and I was shocked that I have never tried it before. It is aromatic, light and decadent at the same time: it is my new favourite fruit dessert!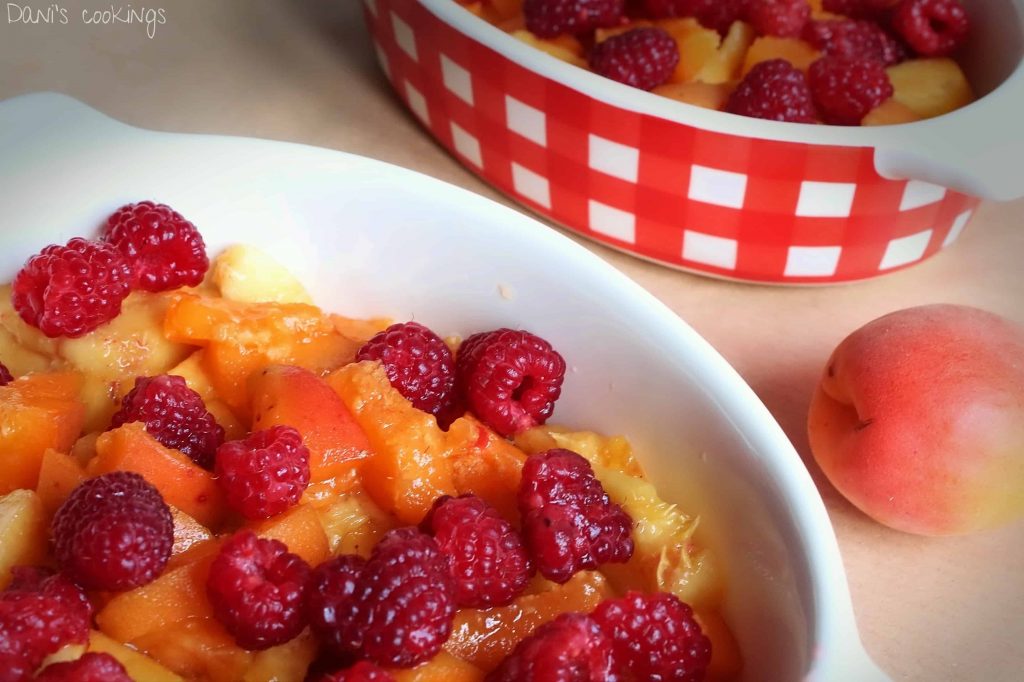 Everything started with the two beautiful red baking dishes that I bought some time ago (buying pans, plates and cake stands has become for me a kind of shopping mania which my better half is not appreciating at all). They stayed untouched in their package for many weeks, until one day I decided that the time has come to make them useful. Obviously I was supposed to bake something fruity, so I started looking at many recipes for pies, tarts and similar fruit desserts… until I found the crumbles. I instantly understood that a crumble is exactly what I wanted to bake: an easy and totally casual dessert. Then I opened my fridge and found there three of my summer favourites: raspberries, apricots and peaches. Just a perfect combination!
It was my first time baking a crumble but I didn't follow any specific recipe because I made up my mind very fast about what I wanted. I was just a bit worried about the right proportions of sugar and spices. For the fruits I added only a spoonful of sugar per dish, which ended up to be just enough for my taste, considering the sweetness of the dough. However I received a complaint from my mom, after she tried the crumble, that it was too sour. For that reason I changed below my initial recipe by doubling the quantity of sugar in the filling.

The recipe is for 2 x 500 ml capacity baking dishes
Ingredients:
For the fruit filling:
3 peaches, peeled and sliced
2 apricots, sliced
200 g fresh raspberries
4 tbs light brown sugar
1 tbs plain cornstarch
½ teaspoon cinnamon
For the dough crumbs:
100 g cold butter, cubed
100 g all-purpose flour
30 g almond flour
1 tbs white sugar
70 g dark brown sugar
1 pinch of salt
Method:
For the filling:
Combine the fruits with the sugar, cornstarch and cinnamon and stir. Place the fruit mixture into the baking dishes. Set aside while preparing the dough.
For the dough crumbs:
In a bowl combine butter, the two kinds of sugar, flour, almond flour and salt. Rub the butter into the dry ingredients until the mixture resembles bread crumbs. Cover the fruit filling in the baking dishes with the dough crumbs.
Preheat oven to 190˚C. Bake the crumble for 30-40 minutes or until golden brown. Remove from oven and let cool for 10 minutes before serving.