Yes, you can make a perfect Ice Cream Cake from scratch in your own kitchen! Without fuss and with just five simple ingredients. This delicious Oreo Cheesecake Ice Cream Cake is the ultimate frozen dessert, the showstopper of every party! Read on to find out how to make it.
What kind of dessert is that
I have been making ice cream cakes from scratch for some time and my conclusion is that they are ten times tastier and much less unhealthy than the ones made with store bought ice cream. You don't need an ice cream maker, I don't own such and still enjoy perfectly tasty no churn ice cream.
If you start making your own frozen desserts from scratch, you will soon realize that you don't like the commercially sold ice cream any more: it will seem to you excessively sweet and you will even start feeling the added chemicals. And while I don't claim that the current recipe is healthy, it is surely much better for you than the similar ones bought from the stores.
What ingredients you need
This is not just any ice cream cake, this is a cheesecake ice cream cake. That means it is loaded with cream cheese and has a crust on the bottom. You don't need eggs for this recipe and it doesn't require cooking. The necessary ingredients are easy to find in local stores:
Cream cheese
Heavy Cream
Sweetened condensed milk
Oreo Cookies
Butter
You can also add other ingredients for decoration, like chocolate or peanut butter but they are not mandatory. I decorated my cake with some of the frosting from my Chocolate Peanut Butter Cupcakes, which was quite a good addition in this case. If you don't want to make a frosting but you still want a piped decoration, you can use some more whipped cream instead.
How to make this cake from scratch
This Oreo Ice Cream Cake is really easy to make from scratch! You can prepare this wonderful no churn dessert even without any baking experience.
To do that first you need to melt the butter and crush some cookies into fine crumbs. The crust is made by mixing these two ingredients. Press the mixture onto the bottom of a spring form pan lined with parchment paper.
After the crust you need to make the filling by whipping the cream and beating separately the cream cheese and condensed milk. Using a rubber spatula combine both mixtures. You can divide the mixture in two parts and add crushed cookies just to one half: that way you will make a layered cookies and cream cheesecake. Or you can just mix the cookie crumbs with the whole quantity of ice cream: it is up to you. The mixture will be nice and creamy and not too thick. Pour it into the pan with the crust and cover with cling film. Freeze until firm before decorating.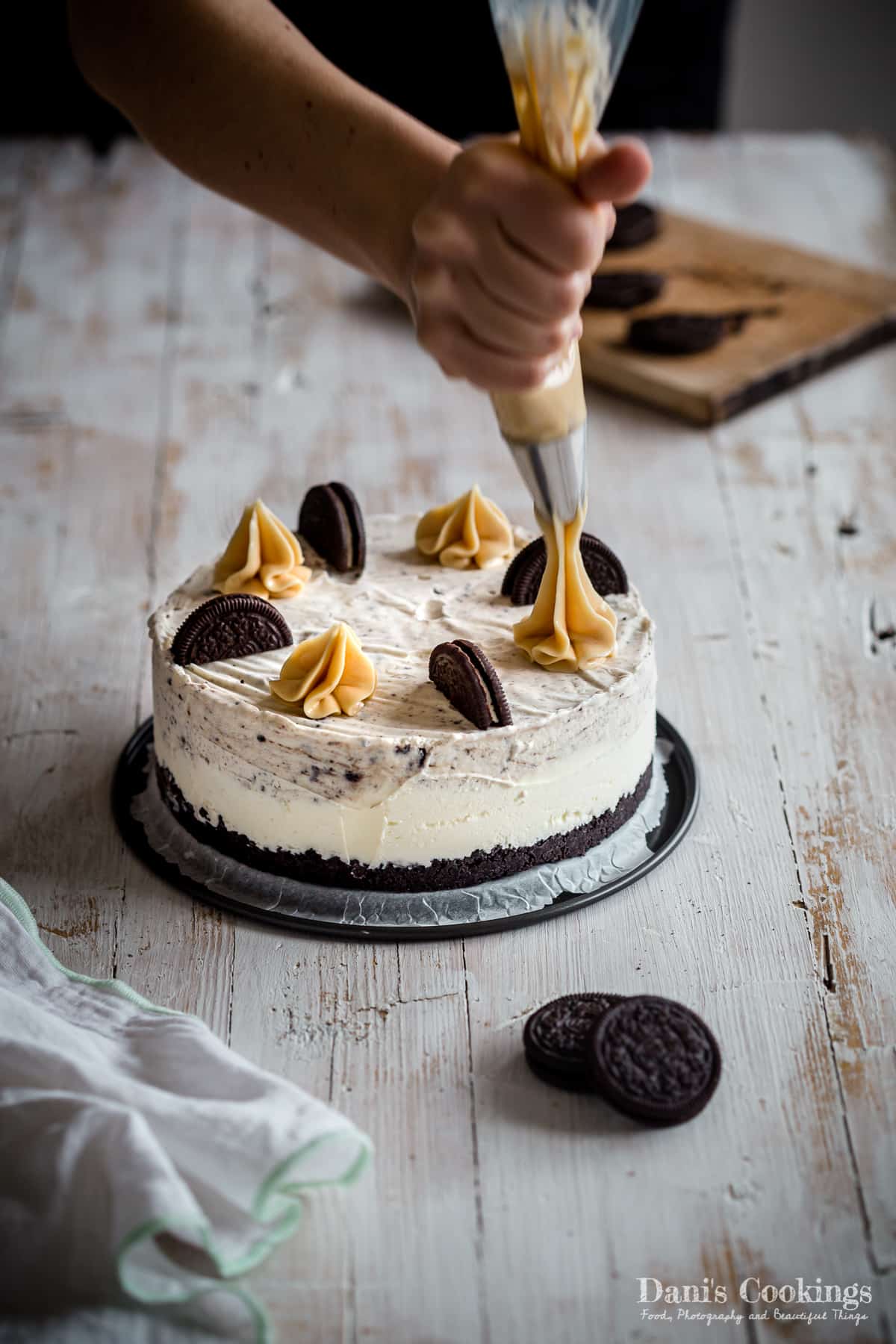 How to serve this cake
Before serving the cake, preferably leave it for 10-15 minutes at room temperature which would make slicing it easier. If it's a hot summer day, five minutes might be enough.
Cut the cake with a large wet knife. You can sprinkle it with chocolate shaves, chocolate sauce or cookie crumbs before serving but that is totally up to you. This cake goes very well with a cold beverage like a cup of cold milk, homemade frappe or iced tea.
Storing tips
Your Oreo Ice Cream Cake can stay in the freezer for 1-2 months. But trust me, you won't let it stay so long, it will disappear in no time.
Before serving it, let stay at room temperature for 10-15 minutes and then slice it with a sharp knife. If you make it for a party, you can leave it at room temperature for about an hour but if it is very hot you might want to reduce this time to 40 minutes.
Did you like this recipe? Check out also the following selection of homemade no churn ice cream:
Healthy Coconut Chocolate Ice Cream
No Churn Lemon Cheesecake Ice Cream
Lemon and Chocolate Semifreddo
If you liked this post, please share it in social media! This will help other people benefit from it!
Oreo Cheesecake Ice Cream Cake
Ingredients
For the crust:
12

oreo cookies

3

tbs/ 40 g butter

,

melted
For the ice cream:
8

oreo cookies

1 ⅓

cup/ 300 g cream cheese

1

cup/ 250 ml whipping cream

,

cold

14

oz/ 397 ml sweetened condensed milk
Instructions
Line a 7 inch / 18 cm spring form pan with a circle of parchment paper.
Crust:
Crush the cookies with a food processor into fine crumbs. Alternatively place them in a plastic bag and use a rolling pin to break them. Transfer the crumbs to a bowl.

Add melted butter to the cookie crumbs and mix very well until combined. Press the mixture to the bottom of the prepared pan. Leave the pan in the fridge.
Filling:
In a large mixing bowl whip the cream with an electric mixer until thickened.

In another bowl beat together the condensed milk and cream cheese until smooth.

Using a rubber spatula combine the two mixtures, folding gently until incorporated.

Break the cookies into irregular pieces using a kitchen grinder.

Divide the mixture in two parts. Pour one part into the crust in the pan. Fold the cookies into the other half, using a rubber spatula. Pour into the pan and smooth out the top with the spatula.

Freeze the ice cream cake for 8 hours or overnight, until stiff.

Decorate before serving. You can use cookies, chocolate or pipe some whipped cream or frosting by choice.
Notes
Make sure the cream is at least 30% fat and has been refrigerated for 6-8 hours before whipping it.
Dividing the ice cream mixture in two parts is an optional step, in order to make a layered cake. You can add the broken cookies into the whole mixture.
Before serving leave the cake at room temperature for 10-15 minutes. Cut with a large wet knife.
Store the cake in the freezer for 1-2 months.
The frosting used in the photos is from the Chocolate Cupcakes with Peanut Butter Frosting